March 16, 2023 • Core Banking by Marketing Skaleet
Payment industry players: delegate your non-differentiating products to a Core Banking Platform ⚡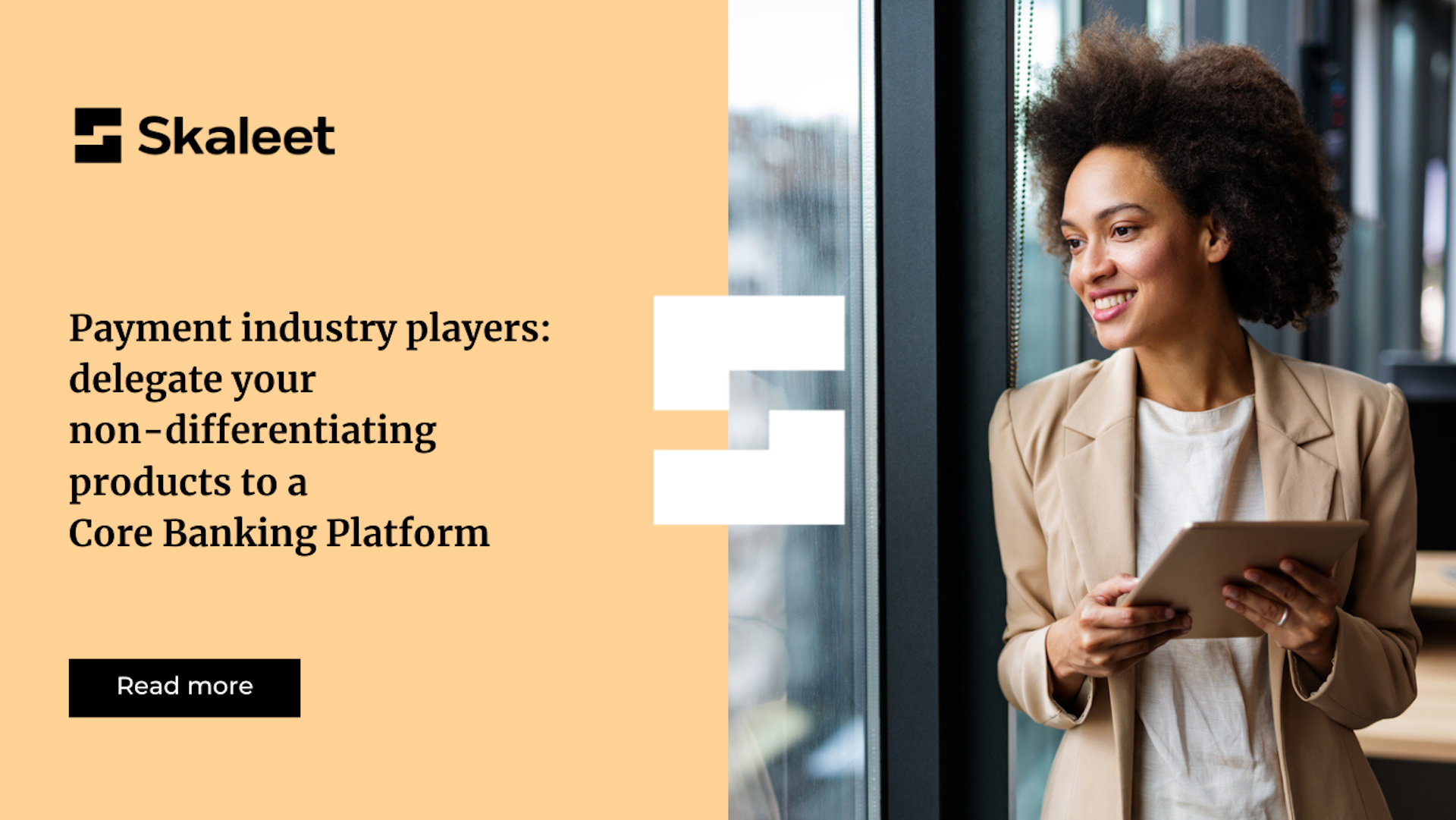 In an ever-changing payment market, financial players face increasingly complex challenges. Customers demand a smooth and personalized payment experience, while regulations impose more stringent compliance and security requirements.
In this context, payment players must differentiate by offering innovative products and services. To achieve this, it's essential to focus on high-value-added activities and to delegate non-differentiating tasks to a Core Banking Platform. Let us explain!
Payment industry players: focus on innovation to stand out 💡
The expectations and requirements of the payment industry customers have changed dramatically in recent years. In particular, the Salesforce white paper on The Future of Financial Services highlights that:
Customers increasingly opt for digital solutions for daily transactions, such as transfers and payments.
Since the COVID-19 pandemic, over 70% of customers have become more demanding towards financial institutions.
Banking, insurance, and wealth management clients are not satisfied with how their financial needs are understood.
3 of the top 5 sources of customer dissatisfaction concern a lack of customer experience personalization.
As a result, payment players must do more to anticipate and meet their customers' needs through personalization. More than fast and smooth payment experiences is required. To meet new customer expectations and demands, offering new and innovative financial experiences becomes crucial. Only in this way will payment players be able to differentiate themselves, win new market share, and build customer loyalty.
Core Banking Platform: what are the benefits for the payment industry? 💳
Payment players are often blocked and limited by their Core Banking System, constraining them in their quest for innovation. Creating and launching new innovative banking products and services with a monolithic Core Banking System takes time and effort.
Read also: Core Banking System: what is it?
Core Banking Systems comprise a single technology block that requires the entire technology to be updated for any evolution. Releasing a new payment product or service then takes several years... This leaves payment players needing help to answer new customer expectations and implement innovative ideas before the competition.
To be able to focus on innovation, payment players need to rethink their technology systems and turn to a new generation of core banking, which is itself innovative: core banking platforms.
Read also: Core Banking Systems vs. Core Banking Platforms: why switch to a next-generation solution?
Thanks to modularity and APIs, these solutions offer many advantages:
The Core Banking Platform manages your non-differentiating financial products and services: no need to spend time and energy on the basics. It takes care of them in a fluid, efficient and automatic way. This allows you to focus on the high-value-added elements.
The Core Banking Platform's orchestration and API layer allow you to connect to the software and functionality you need to deliver innovative services. Best-of-Breed partner integrations will enable you to leverage best-of-breed solutions within your Core Banking.
Thanks to its modular architecture, the Core Banking Platform allows you to release new payment products and services in just a few months. You no longer need to modify the entire technology: the microservices are communicating but autonomous, which allows you to control the IT system from end to end. To create a new product, you can act on a single module without impacting the others. Your time to market is thus drastically reduced.
As you can see, Core Banking Platforms modular technology saves you time managing your non-differentiating products while giving you unlimited scalability. This allows you to focus on what matters: the development of innovative payment products and services to (re)win your customers' hearts!
Skaleet: a modular and configurable Core Banking Platform 🧱
Skaleet has developed a modular, scalable, and API-first Core Banking Platform to free the payment industry from technological restrictions.
Payment account management, pay-in and pay-out orchestration, card issuing/processing management, regulatory reporting... Our solution manages all the complex non-differentiating elements of your business. So, you can focus on the high value-added aspects of your business and design innovative new products and differentiating customer experiences... With an incomparable Time to Market!
With Skaleet, you can orchestrate the best-of-breed products and services through a documented API catalog. With a plug-and-play configuration, you can integrate the modules of your choice to customize your solution to meet new customer expectations and requirements. This approach radically overturns the rigid and historical paradigm of Core Banking Systems, boosting performance, scalability, and launch of new products to address markets, customers, and uses more quickly.
So, delegate your non-differentiating products and become a business architect by building your ecosystem with Skaleet: contact us!
You might also
be interested in
...
Innovation. FinTech. Digital Banking. Neobanks. Open Banking. Core Banking. Cloud.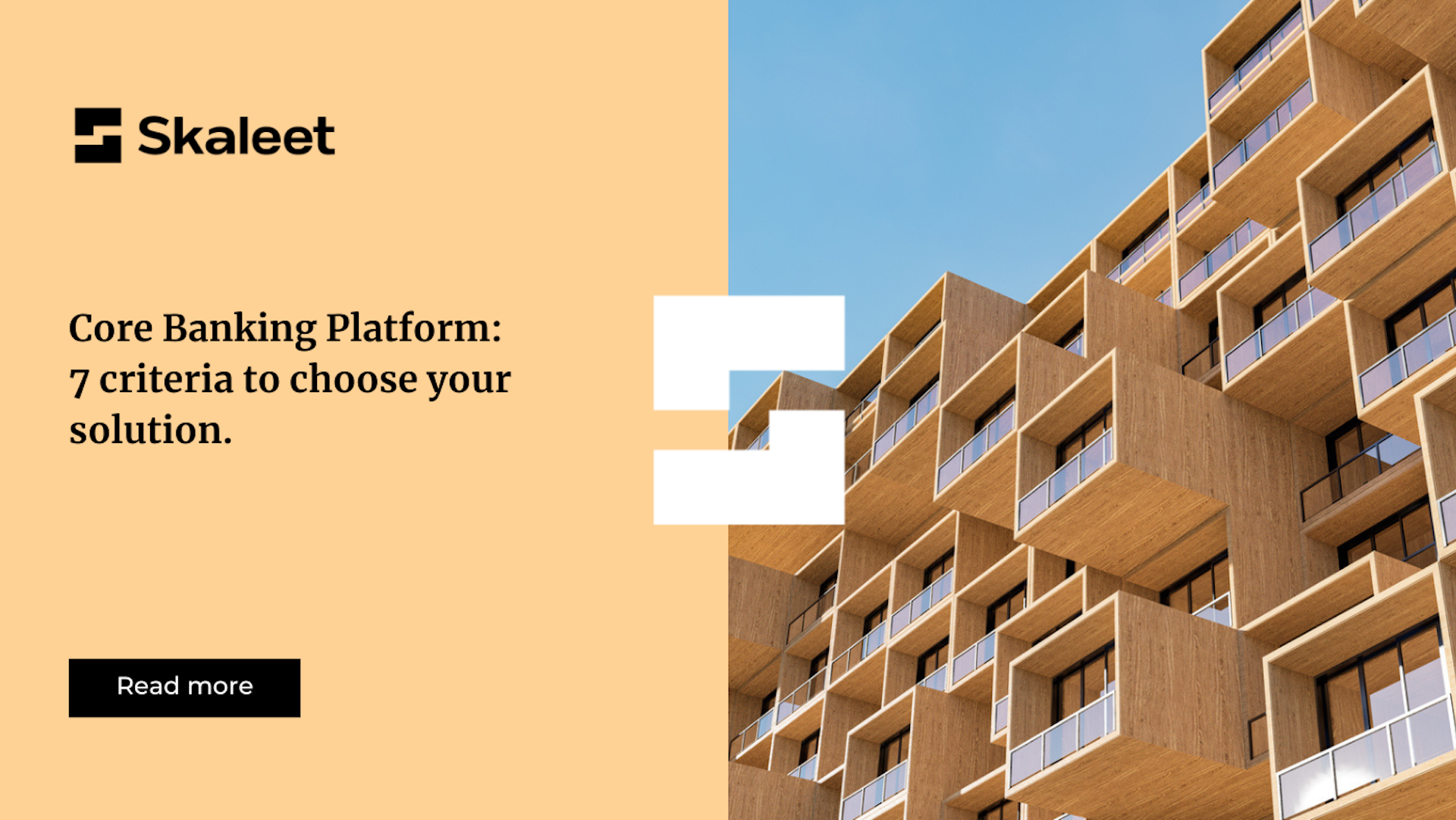 March 9, 2023 • Core Banking by Marketing Skaleet
Core Banking Platform: 7 criteria to choose your solution ✅
Are you considering adopting a Core Banking Platform or migrating to...
Contact Us.
Would you like to learn more about Skaleet and its solution?