March 9, 2023 • Core Banking by Marketing Skaleet
Core Banking Platform: 7 criteria to choose your solution ✅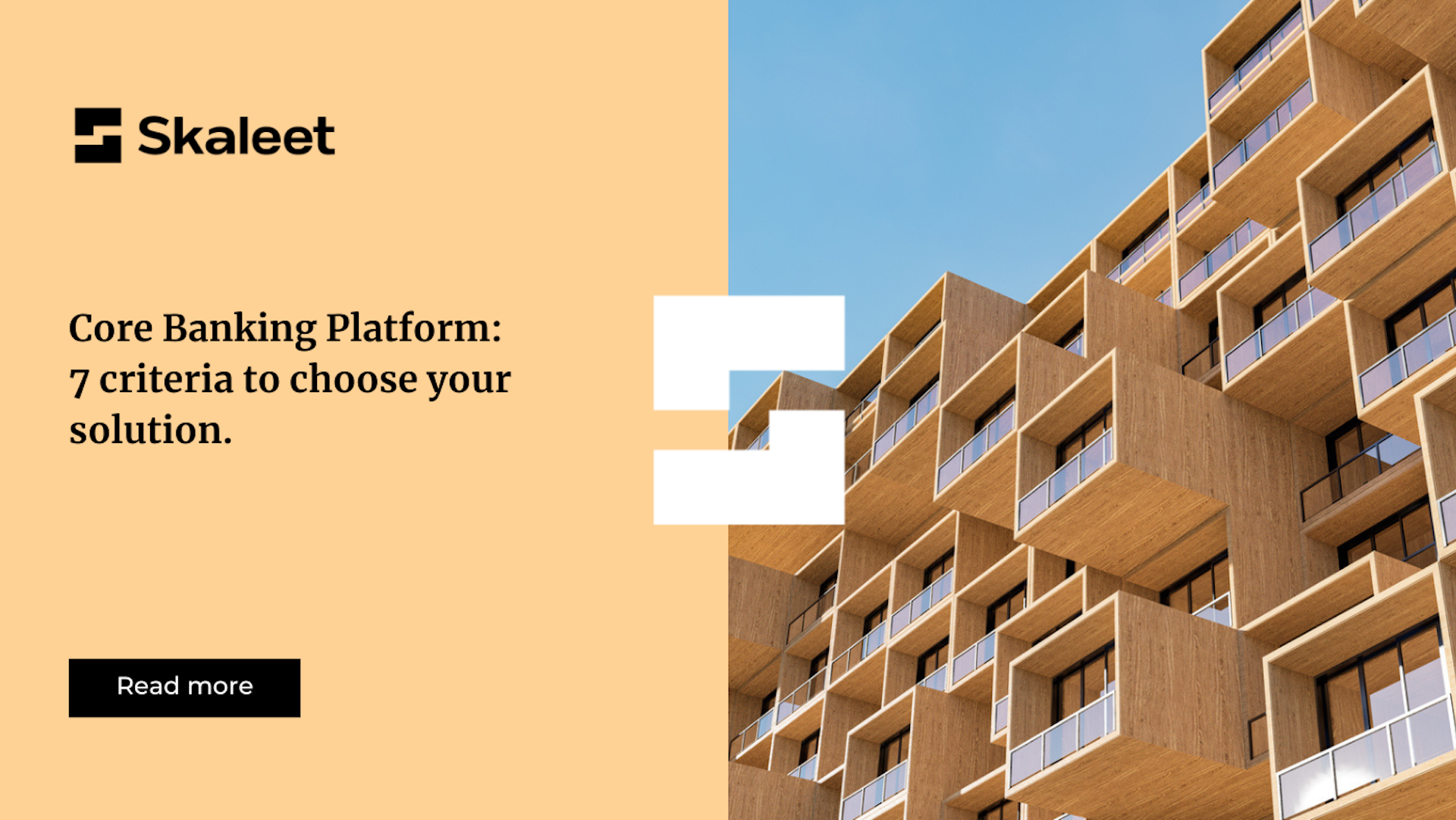 Are you considering adopting a Core Banking Platform or migrating to a next-generation solution? It's an excellent decision that will give you greater agility, time, and scalability. But with a booming market, finding your way around and choosing THE Core Banking Platform that best suits your needs can take time and effort. Here are 7 criteria to consider helping you make your choice!
1.
The APIs
API or Application Programming Interface technology is revolutionizing fintech and the financial industry. These programming interfaces act as intermediaries between several applications. They act as gateways that allow the software to communicate with other software.
Fine, but what does a Core Banking Platform have to offer? To stand out from the crowd, financial institutions today must be able to focus on creating banking services adapted to their customer's expectations. Innovative features, seamless customer experience, differentiated financial services... Core Banking Platforms with an orchestration and APIs layer can connect to the software and features institutions need to deliver these innovative services. APIs make coordinating and integrating components easy while connecting them to the Core Banking Platform's bank accounts.
The Lego bricks are an intuitive metaphor to understand this approach better. The Core Banking Platform coordinates all the bricks (components) on its platform. Any new feature can be integrated, and the choice of components is unlimited. This Lego-like structure, via APIs, facilitates the integration of tailored solutions, allowing for a flexible and scalable partner ecosystem to design differentiating customer experiences and meet specific market needs.
The advantages of APIs are apparent. To fully exploit them, however, you need to pay attention to the architectural style of your future Core Banking. Most Core Banking Platforms engineering teams opt for RESTful or SOAP APIs. However, GraphQL is more interesting. Designed to make APIs fast, flexible, and easy to use, GraphQL allows developers to build queries that pull data from multiple data sources in a single API call, preventing excessive data return.
2.
Microservices and modularity 🧱
Still needing to be widely used in the financial sector, microservices provide a competitive advantage. These autonomous and independent pieces of code connect to create a fully modular application.
While previous generations of Core Banking Systems were built on a monolithic, single-block architecture, today's Core Banking Platforms favor architectures composed of multiple microservices. Thanks to this modular decomposition, the new generation of Core Banking Platforms offers more manageability, scalability, and robustness. They allow you to create new products by orchestrating different services while guaranteeing their integrity.
3.
A cloud native and cloud agnostic solution
For a fully scalable and upgradeable Core Banking Platform, choose cloud-native solutions. Designed to run in the cloud from the start (as opposed to on-premises running on a mainframe), they offer multiple benefits:
Time savings thanks to updates and installations directly managed by the editor;
Automatically backed up and secured data;
A reasonable control of the budget: the global offer includes data hosting, maintenance, and updates... which is often not the case with on-premises;
Ability to instantly adapt to your growth through scalability and upgradeability.
In addition to the native cloud, you should choose a cloud agnostic Core Banking Platform. This will allow you to reduce risks and ensure the sovereignty of your data. Cloud-agnostic solutions can be hosted on any cloud infrastructure. They are not locked to a cloud provider: the Core Banking system is independent of the cloud provider. This hosting compatibility means that Core Banking Platforms can be moved from one cloud environment to another if necessary.
4.
A secure Core Banking Platform 🔒
Your Core Banking Platform must be perfectly secure, whether for your customers' peace of mind or full regulatory compliance. Therefore, ensure your supplier has an Information Security Management System (ISMS) in place and follows the international standards ISO/IEC 27001.
In addition, if you plan to manage card-issuing projects in your core banking, PCI-DSS certification is required. It involves quarterly ASV scans, annual audits, and recertification. Feel free to ask your core banking vendors about these issues for complete security and compliance.
5.
Uncompromising availability
Availability and IT stability are vital criteria for choosing the right Core Banking Platform. Indeed, you cannot afford to risk a break in service to your customers. Therefore, be sure to challenge different Core Banking Platform providers to find out the availability rate of their solution.
6.
Accelerated Time to Market ⏱️
As we said, the challenge for financial institutions today is creating innovative banking services adapted to their customer's expectations. To achieve this, your Core Banking Platform must enable you to release new financial products and services with an accelerated Time to Market. Otherwise, your product may need to be more innovative at the time of its release. Therefore, adopt a Core Banking approach that allows you to launch new functionalities in just a few months to respond to market developments and the new customer uses. This will give you a definite competitive advantage.
7.
Advantageous contractual conditions
Finally, consider the contractual conditions your future core banking provider offers. One of the primary considerations is data protection regulations. The provider must agree to comply with the data protection legislation applicable in the country where you operate. Your contract should clearly define the responsibilities of the parties, the data processing, the transfer of information, the purposes of the processing, and the possibility of employing third parties... These elements are a prerequisite to complying with your regulatory obligations and protecting your customers.
Also, pay attention to the additional costs of IT services and development. You need to expand and grow your business without blowing your budget. The key is to think ahead. Ask core banking providers about the costs of any upgrade. This will ensure that you are not locked in and choose the solution that offers you the lowest TCO (Total Cost of Ownership) from the start.
●
Skaleet, a Core Banking Platform for continuous evolution
Recognizing the challenges of financial and non-financial institutions, Skaleet has developed a scalable, API-first Core Banking Platform. Our solution connects you to a large product, technology, and regulatory partner ecosystem. Resilient and meeting the highest security standards, its high-performance technology architecture allows you to fully leverage your data, gain the speed and agility to manage day-to-day operations, and launch new offerings in record time.
Skaleet is :
A modular architecture based on complete APIs and microservices.
A cloud-native and cloud-agnostic solution for greater agility and scalability
Time to Market 4x faster than the market average.
99% availability
The leader in its market in terms of TCO
40+ customers worldwide
10M+ users managed on our technology platform.
Bring innovation to your offers by creating and distributing contextual and personalized products within the ecosystems of your choice: contact us!
Contact Us.
Would you like to learn more about Skaleet and its solution?