November 7, 2023 • Technology by Marketing Skaleet
Hyper personalization of financial services: why data collection has changed everything!
💾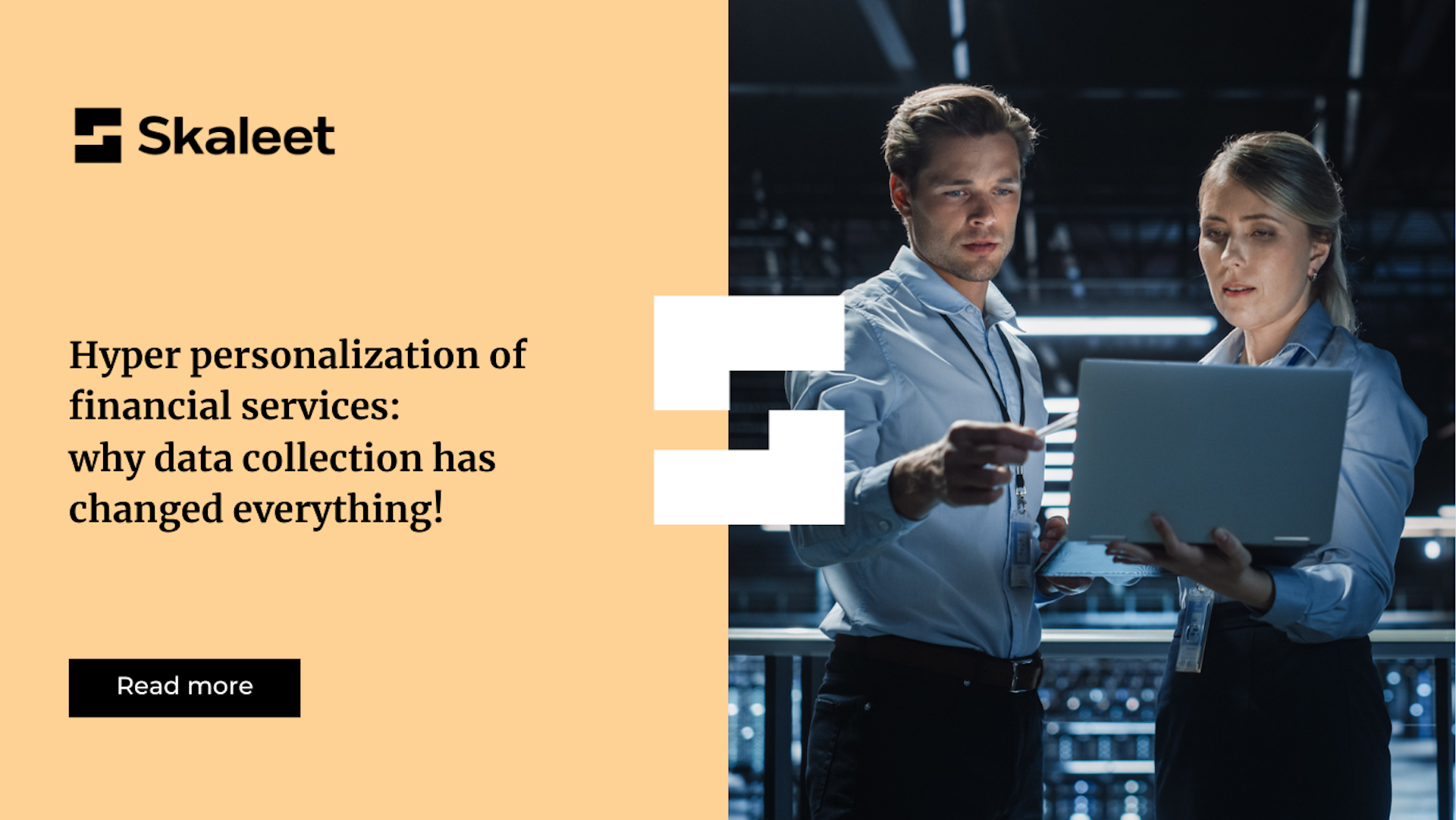 In recent years, the financial services sector has undergone significant changes, driven by technological advances and the emergence of new players - fintechs in particular - who are shaking things up by offering innovative services. The result is changes in consumer habits and new customer demands, demanding increasingly personalized services to match their expectations. In response, data harvesting and the ability to use it wisely to propose customized offers are at the heart of the company's concerns. Let's take a closer look at this key new challenge for attracting and retaining new customers.
Data: an unmissable opportunity for financial services 🏦
New digital habits linked to the COVID-19 pandemic and technological developments affecting the financial sector, with the emergence of innovative new players, have turned the market upside down. Open Banking, Open APIsation, and PSD2 have enabled access to fresh, personalized services that respond more precisely to customers' needs. Financial institutions are now obligated to enhance their offering by incorporating these new personalized functionalities, thus improving the customer experience to remain competitive in an increasingly competitive environment. According to a report published by McKinsey in November 2021, personalization is a key factor in the performance and improvement of customer relations. Indeed, 71% of consumers expect companies to provide personalized solutions, and 76% say they are frustrated when this is not true. Financial institutions are no exception.
Data for a customer-centric approach
Regarding customer experience, personalization is a strategy that offers tailor-made functionalities and interactions to meet specific needs. For financial institutions, these include security, attentiveness, and transparency.
Placing the customer and his concerns at the heart of its strategy has become possible thanks to the intelligent harvesting of the available data. Once collected, this information is then analyzed to enrich profiles and must be used intelligently to provide personalized advice, recommendations, financial plans, tailored features, and services.
For financial institutions, data analysis has become an essential resource, and their growth depends on the relevance of the interactions offered. Data can also improve proximity and build deeper relationships, offering transparency and thus increasing trust.
As you can see, data exploitation and customer centricity are becoming the cornerstones that must guide the company in its key choices. To embrace these new methods, financial institutions must equip themselves with technological tools to develop targeted value propositions. Traditional players often need help to develop innovative services. They are often limited by aging core banking systems with poor data storage and processing capabilities, which need to be better suited to this goal of personalization.
Recent technological innovations are reshuffling the deck to compensate for this lag by offering more modern, scalable, and high-performance platforms. Focus on Core Banking Platforms.
Core Banking Platform: the new ally for data optimization 🤝
As you can imagine, customers' expectations have evolved: they aspire to consistent offers, tailored advice, or recommendations based on their situation, and financial institutions are obliged to offer more flexible options to meet these new demands. Fortunately, Core Banking Platforms can leverage the data they collect to provide dynamic, personalized customer journeys.
Unlike the previous generation, Core Banking Platforms have a Big Data approach and an interface for accessing and managing large quantities of data in real-time. They are also capable of analyzing the data collected. In this way, financial institutions have all the tools they need to make the best decisions in line with market realities.
Once collected and analyzed, financial organizations can segment their customers according to various criteria (spending habits, preferences, location, etc.) and then send them personalized communications to inform them of special offers or promotions that might interest them. But the powers of data don't stop there! It is now possible to transmit hyper-personalized financial offers and services based on the information gathered and by analyzing the history and preferences of each customer: savings accounts, credit cards, loans... The field of possibilities is almost infinite!
In addition, integrating a Core Banking Platform provides a significant advantage in risk analysis, particularly with credit. Thanks to data analysis, lenders can obtain a more accurate and comprehensive risk assessment. Moreover, CBPs can automate this assessment process, enabling them to make faster, more informed decisions to remain competitive in the marketplace.
Thanks to their orchestrator approach, Core Banking Platforms are agile and flexible. This facilitates the development of modern digital experiences and innovative applications centered on user needs in response to analyzed data.
In short, Core Banking Platforms collect, centralize, and analyze data, put the customer at the heart of the project, and enable the rapid integration of innovative functionalities to:
Develop better-targeted marketing offers

Develop new products and services in line with expectations

Manage risks and make better decisions
Data collection: compliance issues to be met
Alongside these many advantages, data collection must comply with the General Data Protection Regulation (GDPR). Here, too, the Core Banking Platform enables us to meet these challenges by joining forces with the best partners to ensure the protection of user data and the proper management of their consent, not forgetting the automatic generation of reports on demand thanks to real-time extraction of the requested data.
With Skaleet, harness the full potential of data.
❤️
Skaleet's Core Banking Platform facilitates data collection thanks to its data-centric focus. The tools offered by the platform enable you to access this data quickly and react swiftly to customer needs. With this information, you can quickly create customized offers and new features to offer your customers a seamless, tailor-made experience.
With its modular architecture and ecosystem of Best-of-Breed partners via APIs, Skaleet gives you the agility to respond quickly to new customer needs and the best tools to create a fluid, scalable, regulatory-compliant interface.
Would you like to get started and design a service that's as close as possible to your customers? Don't hesitate! Equip yourself with a new-generation Core Banking system, and contact us!
You might also
be interested in
...
Innovation. FinTech. Digital Banking. Neobanks. Open Banking. Core Banking. Cloud.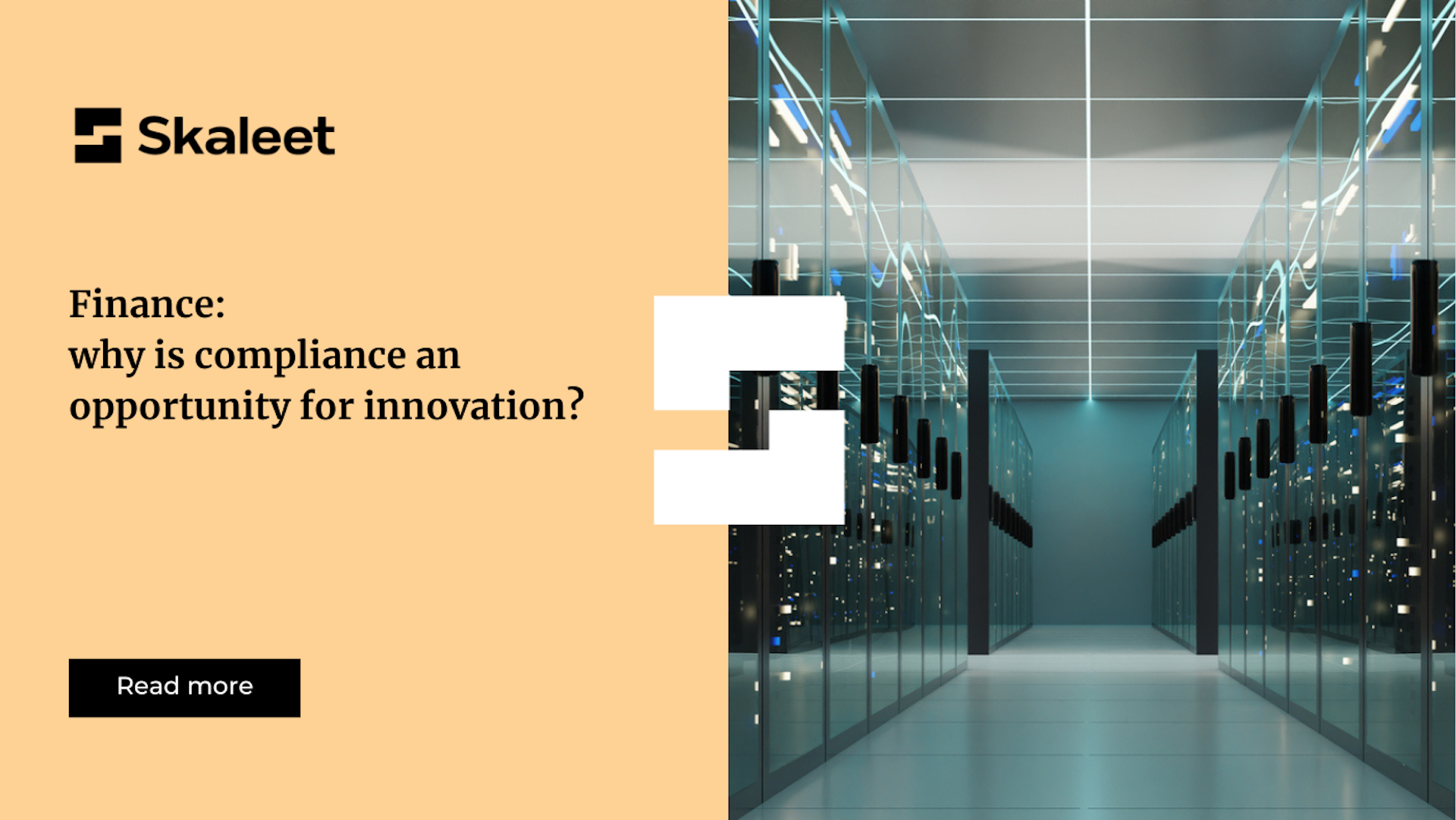 October 24, 2023 • Neo banks by Marketing Skaleet
Finance: why is compliance an opportunity for innovation?
💡
Between the evolution of regulatory standards in the financial sector...
Contact Us.
Would you like to learn more about Skaleet and its solution?