October 24, 2023 • Neo banks by Marketing Skaleet
Finance: why is compliance an opportunity for innovation?
💡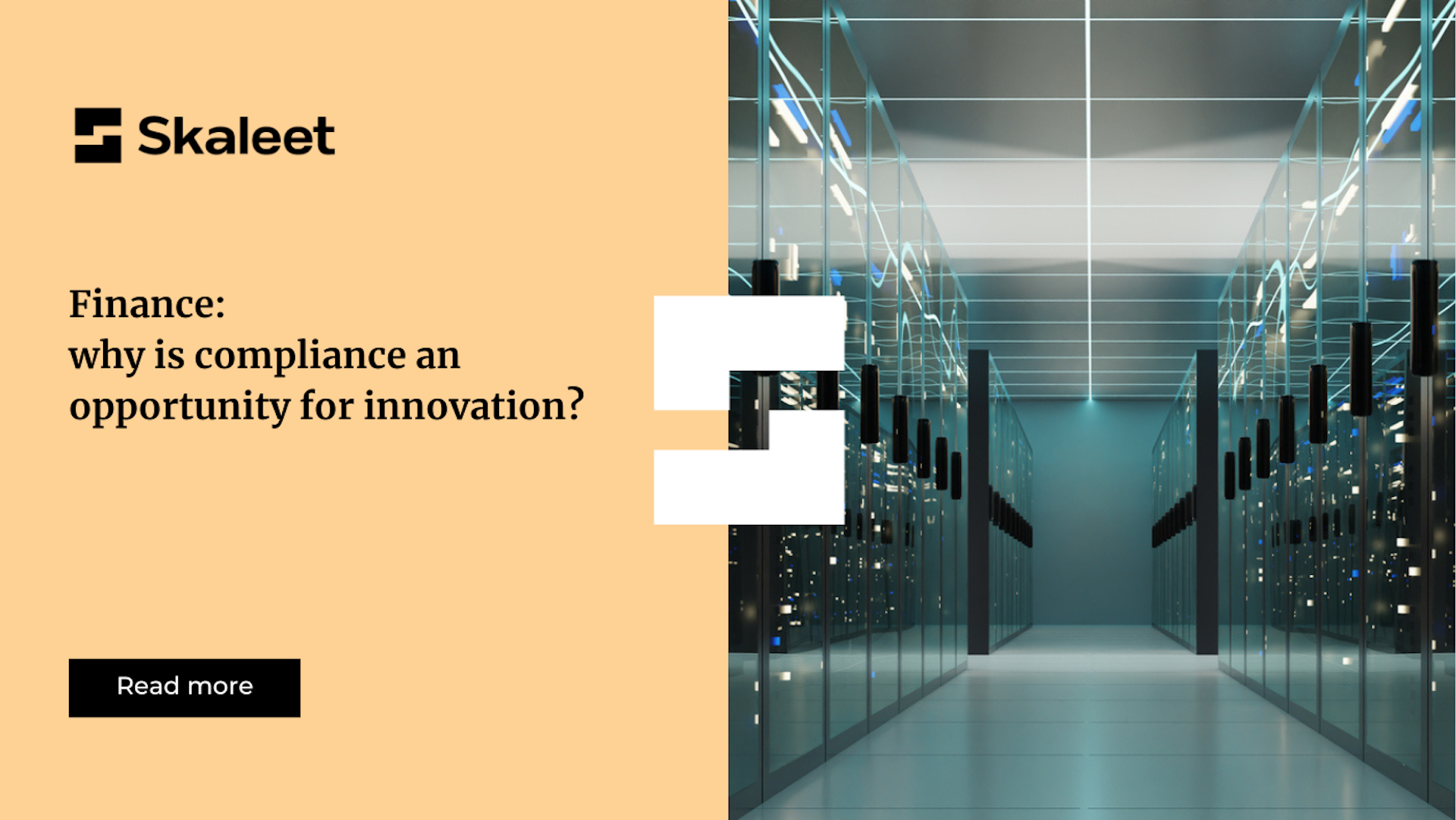 Between the evolution of regulatory standards in the financial sector and the revolution offered by new technologies, maintaining IT system compliance is a central issue for financial institutions, representing a substantial investment for their teams. Initially seen as a burdensome task with no added value, compliance is now a vector of innovation for companies in the financial sector. So, how can compliance be used as a lever for innovation and differentiation? Here's the answer.
Compliance: a central issue for all financial institutions
🏦
The financial sector is undergoing several transformations. Digitization brings upheavals in consumer habits and customer expectations and is accompanied by new regulations to better respond to them. Maintaining compliance with these new standards, while necessary to keep one's license, is often seen as a task that brings no value to regulated financial institutions. Moreover, it's time-consuming, mobilizing a large proportion of staff over long shifts. Indeed, traditional IT systems, known as Core Banking Systems, must be more robust and allow maintenance to be managed smoothly and efficiently.
Among the significant developments linked to the digitalization of the financial sector, the second European Payment Services Directive (PSD2) has modernized payment services by sharing banking data with partners authorized to process this information - with the customer's consent - to foster innovation and strengthen transaction security. This opening up of the banking system - also known as Open Banking - continues to evolve and is in the process of extending its scope to Open Finance (PSD3), with a more ambitious legal framework to reinforce anti-fraud measures to reassure users and enable companies to obtain an overview of their financial health.
The democratization of APIs makes these regulatory changes and the resulting acceleration in innovation (more robust security, more fluid and flexible experience) possible. This technology establishes the link between the bank, the customer, and the service provider. Building on this progress, the new generations of Core Banking Platforms can rely on experts to enable the integration of numerous applications with ease to meet new consumer expectations, comply with regulatory changes, and keep their systems up to date.
Initially perceived as a constraint, it is now possible to transform compliance into an opportunity... Zoom in on the innovations enabled by Core Banking Platforms.
Compliance as an opportunity for differentiation
⚡
Save time on non-value-added tasks.
For every financial institution, it is necessary to ensure compliance with international requirements and apply best practices to apprehend audits conducted by financial regulators serenely.
If the company is ill-equipped, these regulatory obligations generate a great deal of manual work on the part of in-house teams, which is particularly constraining in a financial landscape where it is necessary to prioritize innovation to retain customers. New-generation Core Banking Platforms make it possible to outsource compliance-related aspects, relying on a network of Best-of-Breed partners, and to ensure compliance with regulatory standards by entrusting this task to experts. As a result, financial players gain peace of mind, in-house teams get a head start, and can now concentrate on what matters: the development of new, high-value-added functionalities.
Read also: IT finance: what if you focused on innovation rather than maintenance?
Improving the customer experience
Customer satisfaction is at the heart of every financial institution's concerns. As customers become increasingly sensitive to confidentiality issues, data security, and data flows, companies need to be able to provide them with compliance guarantees. In addition to ensuring their peace of mind by working with the most seasoned partners in the field, the Core Banking Platform will offer greater flexibility, reliability, and an enhanced user experience through a robust system and flawless availability to eliminate any risk of malfunction or maintenance operations interrupting service continuity. Customers benefit from a fluid, secure, and continuously improved interface for their operations.
Skaleet: your compliance and innovation ally
🤝
Skaleet offers a new generation of Core Banking Platforms to support your compliance and innovation needs. Unlike traditional Core Banking, the Skaleet platform provides an open, modular architecture to build your customized financial ecosystem and constantly reinvent yourself while ensuring you remain compliant with the latest international regulatory requirements. This approach provides a scalable and highly customizable environment, with the ability to configure and integrate new functionalities within your platform by leveraging APIs from Best-of-Breed providers. This high degree of manageability means you can meet new user expectations regarding innovation and sleep soundly when it comes to compliance.
Skaleet manages your essential financial services smoothly and automatically. By limiting manual operations, you can now concentrate on building new offers and developing new products while complying with compliance requirements: secure management of access rights, integration of KYC and AML-CFT partners, and automatic reporting... Skaleet has it all! This saves you time, allowing you to concentrate on innovation and customer satisfaction.
Skaleet's Continuous Delivery service ensures that the platform is always up to date. This approach guarantees non-existent maintenance costs and a Core Banking rich in new functionalities every two months via a Test and learn approach.
In the face of regulatory changes, Skaleet offers comprehensive support, enabling the development of innovative, reliable products that comply with the highest international standards. Would you like to continue innovating with complete peace of mind and discover the Core Banking Platform made in Skaleet? Contact us
Contact Us.
Would you like to learn more about Skaleet and its solution?