October 5, 2023 • Core Banking by Marketing Skaleet
Financial institutions: is it better to opt for in-house development or a Core Banking Platform?⚡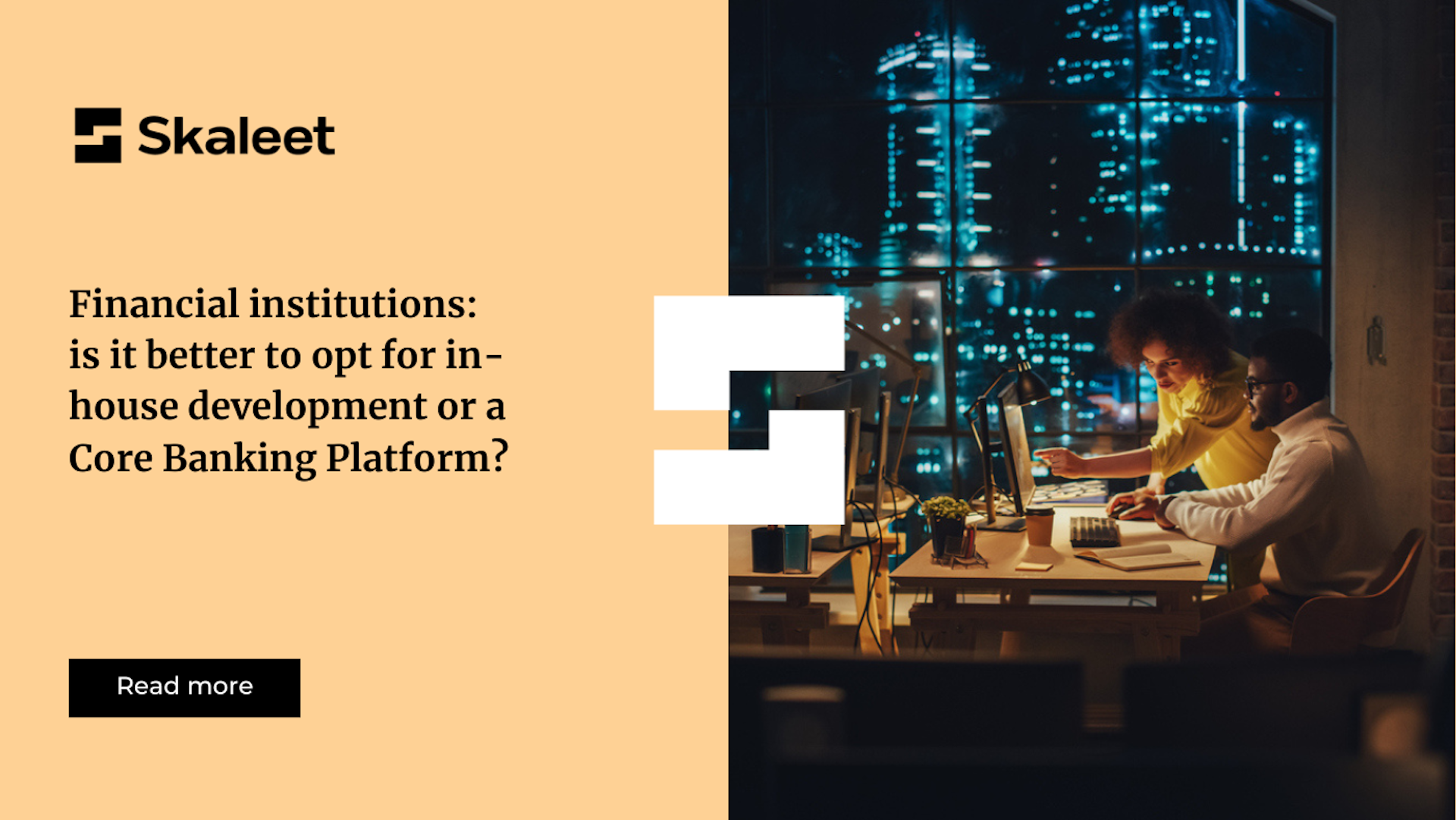 In an ever-changing environment, financial institutions must be able to innovate to adapt to market needs and meet new regulations and security standards. In this context, solutions have emerged to enhance the customer experience and meet these legal requirements: Core Banking Platforms. These technologies offer greater agility, security, and scalability. However, some companies still need to be ready to outsource this service, preferring to develop their platform in-house. So, is it better to develop an in-house solution or opt for a Core Banking Platform? In a nutshell.
Perceived advantages of in-house development
In-house development involves developing solutions using existing internal resources without the help of an external service provider.
At first glance, it has certain advantages:
Proximity to teams and customization of the solution: relying on an in-house team means you can supervise project implementation and communicate more easily. This means better quality control and focusing on the company's philosophy and desired direction.
Optimal involvement and understanding of needs: developers are immersed with the teams daily and are familiar with the company's values and organizational issues. Moreover, an in-house team often demonstrates more significant commitment than a service provider since its interests align with the company's.
Maintaining independence: in-house development enables you to keep your autonomy and enhance the value of your teams by placing them at the heart of developing a highly strategic tool. On the other hand, outsourcing a solution can create dependency on an external partner and the fear of being blocked by an already busy roadmap.
The list of perceived advantages is now coming up against numerous constraints linked to the evolution of the financial sector and its new needs. Developing a project of this magnitude requires innumerable resources to meet the challenges of reliability, security, and scalability.
The design of a core banking system is particularly complex and requires a considerable investment in time and money. On average, in-house development takes 2 years and requires a financial investment of around 2 million euros. Likewise, this choice requires a wide range of skills and implies recruiting several developers in the context of talent shortage.
Updating the systems regularly once the application has been developed is essential due to ever-changing regulatory constraints. This situation can lead to a deadlock in the teams' roadmap, as they must devote most of their time to compliance rather than innovation. This can lead to customer dissatisfaction and a loss of competitive edge.
Several solutions have emerged to remedy the problems associated with in-house development... Let's take a closer look at Core Banking Platforms!
Read also: Fintech: rely on a Core Banking Platform for greater flexibility and autonomy!
Core Banking Platforms: a tailored response to financial institutions' needs
A Core Banking Platform is a system built on a modular architecture. This architecture enables localized modifications to be implemented rapidly. This technology also enhances configurability and scalability, enabling financial institutions to draw on a network of partners and provide additional services via APIs. In this way, the Core Banking Platform makes it possible to develop new, modern digital functionalities without the constraints of the traditional Core Banking System and in-house development. Naturally, this approach generates new opportunities:
Innovation: to stand out from the crowd and remain competitive, financial companies need to be able to differentiate themselves and create innovative functionalities tailored to their customers' expectations. Because they are orchestrated and operate via APIs, Core Banking Platforms can integrate the most advanced solutions and offer a cutting-edge customer experience with high-performance technology.
Manageability: Core Banking Platforms favor architectures composed of several micro-services. These independent, autonomous pieces of code connect to create a fully modular application. This approach results in a highly configurable tool that can be adapted to the specific needs of financial institutions. Moreover, our "Plug and Play" approach means you can quickly get to grips with the system and create your ecosystem with complete autonomy.
Compliance and security: the regulatory framework for financial institutions is constantly evolving, and it takes time to update one's IT environment to meet the latest requirements. Whether it's to guarantee your customers' peace of mind or to ensure flawless regulatory compliance, the Core Banking Platform enables you to be supported by experts and to delegate this time-consuming task, unlike in-house development.
Reduced time-to-market: in-house construction projects are highly time-consuming. The planning phases alone can take several months, while recruitment requirements can prolong the process even further, not to mention managing unforeseen events, potential oversights, integration, etc... In the final analysis, the development of an in-house solution can be counted in years. In contrast, the implementation time for a Core Banking Platform is estimated at between 3 and 9 months, saving considerable time and ensuring that you take advantage of market opportunities.
Costs and return on investment: licensing, implementing, and maintaining Core Banking are much lower than the final costs of building an in-house system. With a Core Banking Platform, there's no need to recruit the resources required to develop, operate, and maintain your IT system. By relying on an external service provider, hidden and recurring costs are reduced thanks to reduced risks of delays, contractual pricing that eliminates cost overruns, and included upgrades and new functionalities to stay at the cutting edge of innovation. Therefore, a Core Banking Platform's TCO (total cost of ownership) is much lower than that of an in-house solution, resulting in a much higher return on investment.
Core Banking Platforms are indeed invaluable allies for financial institutions of all sizes. They offer rapid access to innovative technologies for differentiation while ensuring maintenance, compliance, and security. By relying on an external partner, financial institutions empower themselves to address the challenges of digital transformation and overcome many constraints cost-effectively, all while enjoying the benefits of in-house development: autonomy, flexibility, and adaptability. When opting for a 'Buy' approach, there are specific situations where developing internal digital capabilities can make sense. Such a scenario arises when the specific capabilities you want or need are not currently available in the market. Furthermore, if your financial institution's primary driver is innovation and disrupting the market through technology, you may choose to build some of your capabilities. Even in this situation, it is common to need to purchase new tools and activate capabilities to support internal efforts.
While the build or buy argument is often presented as a binary choice, it is not always the case. In reality, in some situations, a strategy that integrates elements of both in-house and using a Core Banking Platform by a technological partner can offer the most advantages.
With Skaleet: co-construct your innovative, secure, and profitable ecosystem
Become the architect of your ecosystem! Through its API-first architecture, Skaleet connects you to its network of Best-of-Breed partners, enabling you to benefit from the best solutions adapted to your needs and enriching your Core Banking with a tailor-made approach for easier management.
Skaleet's low-code/no-code logic makes choosing and onboarding solutions easy. You'll also be able to test these new products in a "Test & Learn" logic with complete autonomy. It's also possible to integrate your code into the solution for your specific needs and functionalities. In this way, Skaleet offers total freedom in customizing the resolution and infinite possibilities!
Read also: CTO: co-construct your Core Banking roadmap with Skaleet!
The Skaleet Core Banking Platform also automates low-value-added tasks. Our approach saves you time and gives you the guarantee of reduced Time to Market for new services. In other words, Skaleet takes care of all the basic, non-differentiating tasks, enabling your teams to focus on what matters!
Moreover, the platform's Continuous Delivery deployment guarantees you'll always benefit from a state-of-the-art solution, with new features available every two months.
To be scalable and upgradeable, Skaleet's Core Banking Platform is Cloud Native, designed to run in the cloud from the outset. Skaleet's solution is also Cloud Agnostic: it can be hosted with any Cloud provider and moved from one Cloud environment to another as required.
Finally, our teams ensure the reliability of Core Banking with 99.99% availability, as well as the security of your data and compliance with the strictest international standards and requirements (ISO/IEC 27001).
By combining all these advantages, Skaleet works alongside you to help you become more efficient while retaining your autonomy! So, are you ready to simplify your financial management? Get in touch with us!
You might also
be interested in
...
Innovation. FinTech. Digital Banking. Neobanks. Open Banking. Core Banking. Cloud.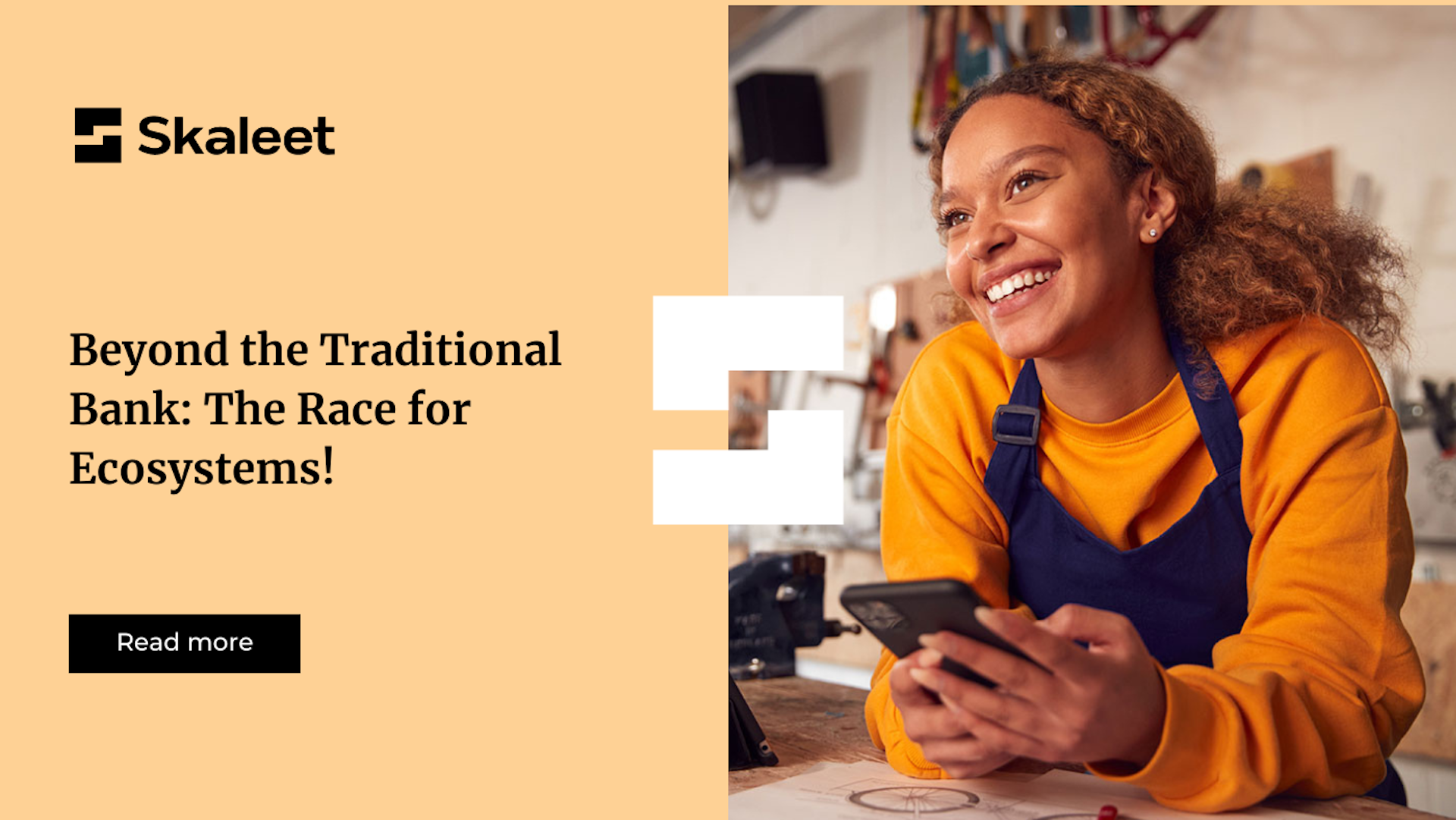 September 27, 2023 • Open Economy by Marketing Skaleet
Beyond the Traditional Bank: The Race for Ecosystems! 🚴‍♂️
The current evolution of value is resolutely moving towards commercial ecosystems.
Contact Us.
Would you like to learn more about Skaleet and its solution?