October 17, 2023 • Core Banking by Marketing Skaleet
Fintech licensing: how to maintain commercial agility and profitability while remaining compliant?
✅
How to Obtain a Payment License?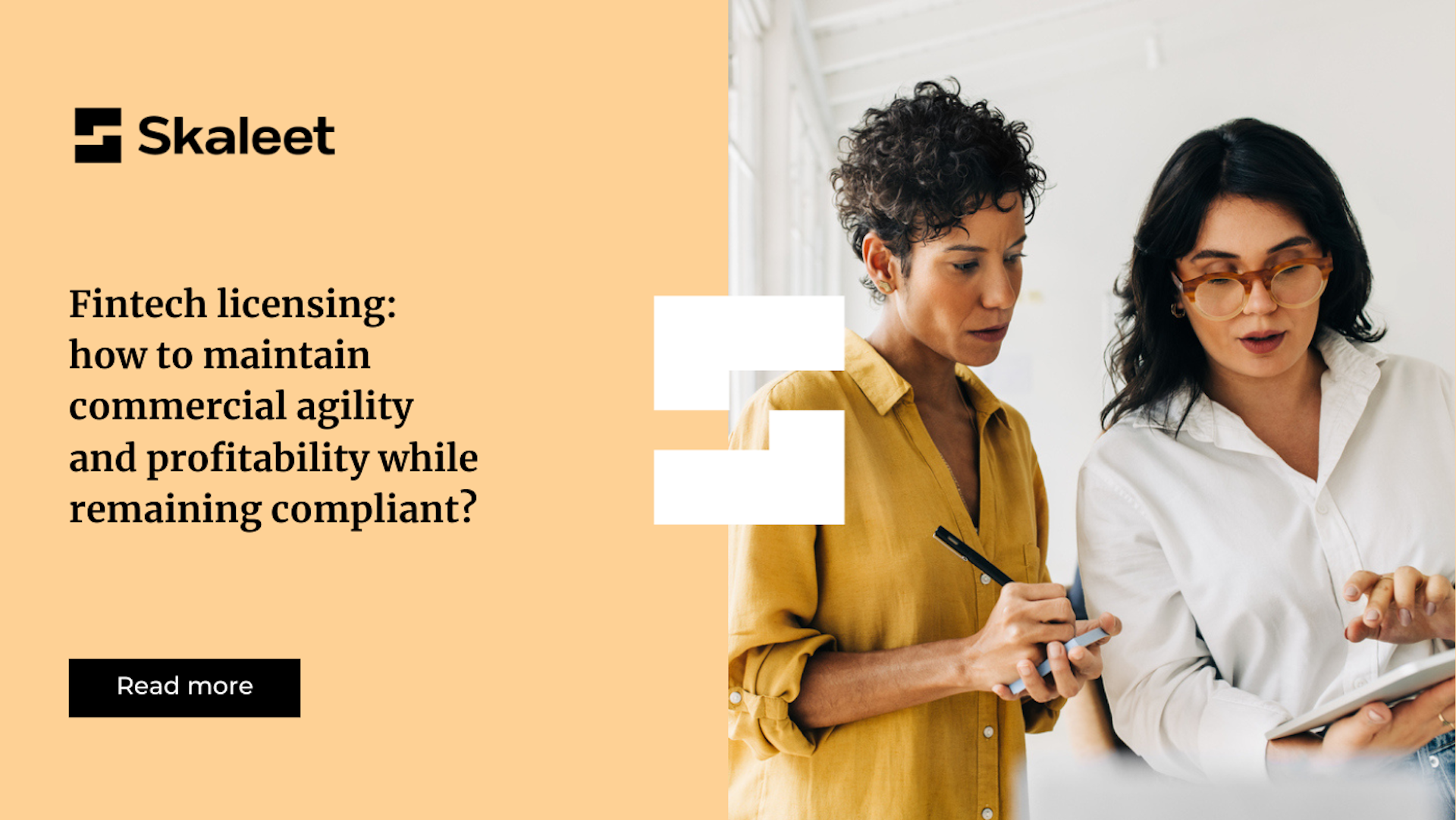 Since fintechs emerged, the financial landscape and its standards have evolved considerably. These companies, which have revolutionized financial management methods, must offer innovative financial services while ensuring compliance with current regulations so as not to jeopardize their operating license. However, meeting these compliance requirements is a complex and time-consuming task and requires considerable resources to keep IT systems up to date. As a result of this substantial investment, fintech teams can lose sight of their primary objective: creating innovative banking services. So, how do you find the right balance to maintain business agility and profitability? Find out in this article.
Compliance: a significant challenge for regulated fintech
All fintechs must present a solid and reliable IT system, both from a functional and regulatory point of view. Financial institutions must comply with the specific regulatory framework laid down by the ACPR (Autorité de Contrôle Prudentiel et de Résolution), the main body responsible for supervising the fintech activities, or risk having their financial license.
Indeed, in the event of an audit (carried out on average every three years), financial institutions must be able to prove that they are carrying out sound and reliable operations. This may concern the fight against money laundering and the financing of terrorism (AML/CFT controls), for example. At the same time, other fintech supervisory bodies regulate activities linked to financial markets to ensure compliance with transparency and investor protection standards. Faced with such high stakes and the associated risks of license suspension, compliance is a central issue for regulated fintechs. Unfortunately, when companies are not supported or equipped with the right tools, this can represent a substantial financial investment and a time-consuming mission for teams, preventing fintechs from concentrating on their raison d'être: offering innovative and diversified financial services.
Core Banking System: inadequate IT systems hamper profitability
IT systems, often developed in-house or introduced many years ago (so-called "legacy" systems), may no longer correspond to today's needs, as they are based on a monolithic structure that makes any modification very restrictive. Core banking systems also require a great deal of manual work, which can lead to errors and increased risks, particularly in compliance. On the other hand, these environments offer mediocre performance in IT stability, do not cover specific necessary functional requirements, and do not allow for scalability at the same pace as legislation.
Faced with ever-changing regulations, most developers' roadmaps are occupied by missions linked to updating systems to remain compliant with the framework set by financial regulators. In this context, they can no longer focus on what counts: revenue-generating functionalities and the development of new, differentiating, and innovative applications to satisfy unique needs, stand out from the competition, and win new customers.
At the same time, all that time spent coding to update the IT system, integrating the necessary technologies, and carrying out maintenance operations represents a substantial cost: it is estimated that compliance accounts for 70% of IT expenditure for financial institutions.

These issues of agility, cost, and performance are prompting fintechs to question their existing core banking model. Looking at the new solutions that can guarantee system compliance, scalability, and manageability is necessary.
With Skaleet, innovate safely and focus on the essentials
To support you in your technological innovations, Skaleet offers you a new generation of Core Banking Platforms. Unlike traditional solutions, Skaleet provides an open, modular architecture to build your customized financial ecosystem and constantly reinvent yourself while remaining compliant with regulatory requirements.
The Skaleet platform is designed to be agile and scalable to capture today's and tomorrow's market opportunities: you can configure and implement new products within the platform using APIs and Best-of-Breed suppliers. This high degree of configurability enables you to adapt to new user needs by equipping yourself with the most powerful solutions.
Skaleet manages your non-differentiating services smoothly and automatically. By limiting manual operations, you can concentrate on building new offers and developing new products while remaining confident about compliance requirements: automatic reporting, secure management of access rights, integration of KYC and AML-CFT partners... Skaleet takes care of everything! This saves you time, allowing you to concentrate on market opportunities and acquiring new customers.
Skaleet's Core Banking Platform also gives you extensive autonomy to configure and develop innovative products in a no code/low code logic to ensure your business agility. This approach enables rapid deployment of new functionalities, requiring reduced coding. As a result, fintechs can offer new services with considerably reduced Time to Market. Moreover, it enables development teams to concentrate on differentiating functionalities and high-value-added products.
Skaleet offers a Continuous Delivery service to ensure that you benefit from a constantly updated platform. This approach guarantees zero maintenance costs and a Core Banking rich in new features to be tested and integrated every two months.
In the highly regulated world of Open Banking, Skaleet offers fintechs comprehensive support, enabling them to develop innovative solutions in compliance with the highest standards. Would you like to continue innovating with complete peace of mind and learn more about our platform? Contact us now!
Contact Us.
Would you like to learn more about Skaleet and its solution?