June 1, 2022 • Payments by Marketing Skaleet
Skaleet partners with PSP Lab to help its customers with the payment licensing process in Europe 🌍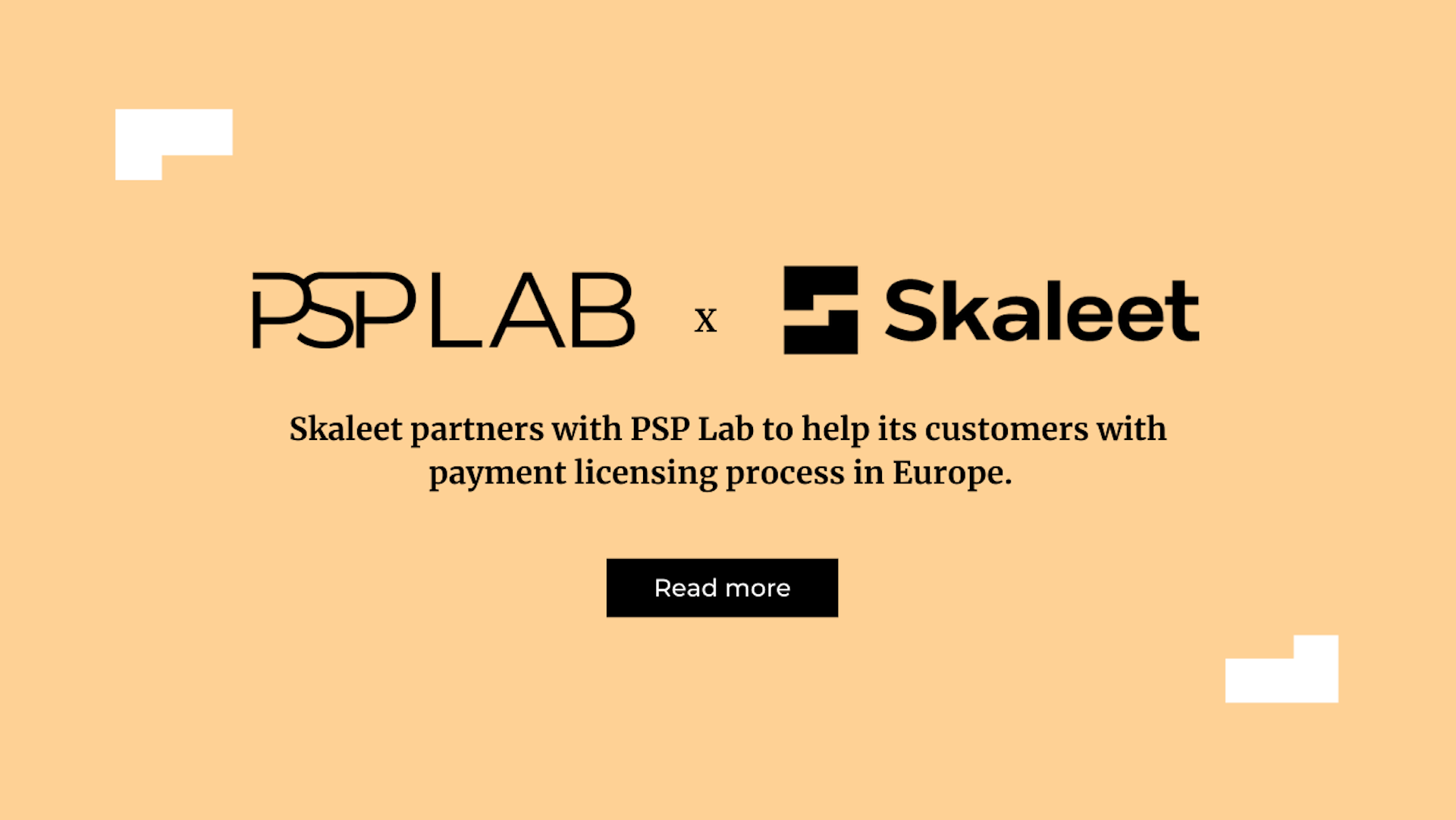 Paris, June 1st, 2022 - Skaleet, an international fintech offering a next-generation Core Banking Platform (CBP) is today announcing its partnership with PSP Lab, a European Fintech consulting company. The partnership means Skaleet will be able to offer their mutual customers comprehensive regulatory expertise. With this new partnership, Skaleet customers can now acquire the necessary electronic money and payment institution authorisations, and keep in line with their obligations to focus on growing their business.
A common ambition 🤝
PSP Lab advises its customers in a constantly-changing regulatory environment on the regulatory licensing process and supports them in developing reliable and regulatory-compliant products and services. Thanks to the Core Banking Platform offered by Skaleet, PSP Lab will be able to meet the demanding needs of its customers by providing an adapted solution to the regulatory complexities of payment activities in Europe in order to facilitate the rapid distribution of services. Skaleet and PSP Lab believe that their association creates value for both their current and future clients.
Skaleet chose a partner who is able to support companies in the process to obtain a payment license, knowledgeable in the Fintech ecosystem and participating in the most promising and innovative projects in Europe. Skaleet has customers requiring an Electronic Money Institution (EMI) / Payment Institution (PI) license as well as the expertise of a team used to handle requests with regulators.
" Our choice naturally fell on PSP Lab, which is one of the leading consulting companies in the European Fintech landscape.  "
Brice Groche - Sales Partnership Director at Skaleet
" After reviewing a dozen, maybe a hundred, of different solutions on the market we've satisfied ourselves that Skaleet has the potential to fulfill the needs of our most demanding clients.  "
Dmitrijus Apockinas - Managing Partner, PSP Lab
Streamlining the process of obtaining payment institution authorisations is at the heart of the partnership 🤝
Today, Skaleet and PSP Lab ensure their customers can benefit from a head start over the other market players. Furthermore, they intend to upgrade their respective services and products in order to provide their customers with an all-in-one solution that is adapted to their needs.
About Skaleet:
Skaleet, is a French fintech that provides a scalable and flexible next-generation Core Banking Platform (CBP) with an advanced degree of customization. This platform enables financial institutions (retail banks, digital banks, payment and e-money institutions, ...) to better meet their customers' expectations with new and evolving digital financial offers. Skaleet's CBP has already been implemented in more than 34 financial institutions and Skaleet manages over 8 million bank accounts worldwide. Major customers include: Société Générale, eZyness (a subsidiary of La Banque Postale) and Trust Merchant Bank. Since its creation, the fintech has raised €28.5 million from Société Générale and Long Arc Capital, which confirms its ambition to grow internationally. For more information, visit www.skaleet.com, Twitter and LinkedIn.
Contact: marketing@skaleet.com
About PSP Lab:
PSP Lab is a UK-based fintech consulting firm that brings cutting-edge solutions in terms of management consulting, business and technological development. PSP Lab advises authorised market participants and those who wish to become such. PSP Lab assists FinTech entrepreneurs with the complexities related to the regulatory licensing process, business development, compliance matters, external auditing, software development, business introductions, investment, mergers, and acquisitions. For more information visit www.psplab.com and LinkedIn.
Contact: info@psplab.com
Contact Us.
Would you like to learn more about Skaleet and its solution?