May 9, 2023 • Core Banking by Marketing Skaleet
No-Code, Low-Code: what are the advantages for Core Banking?💡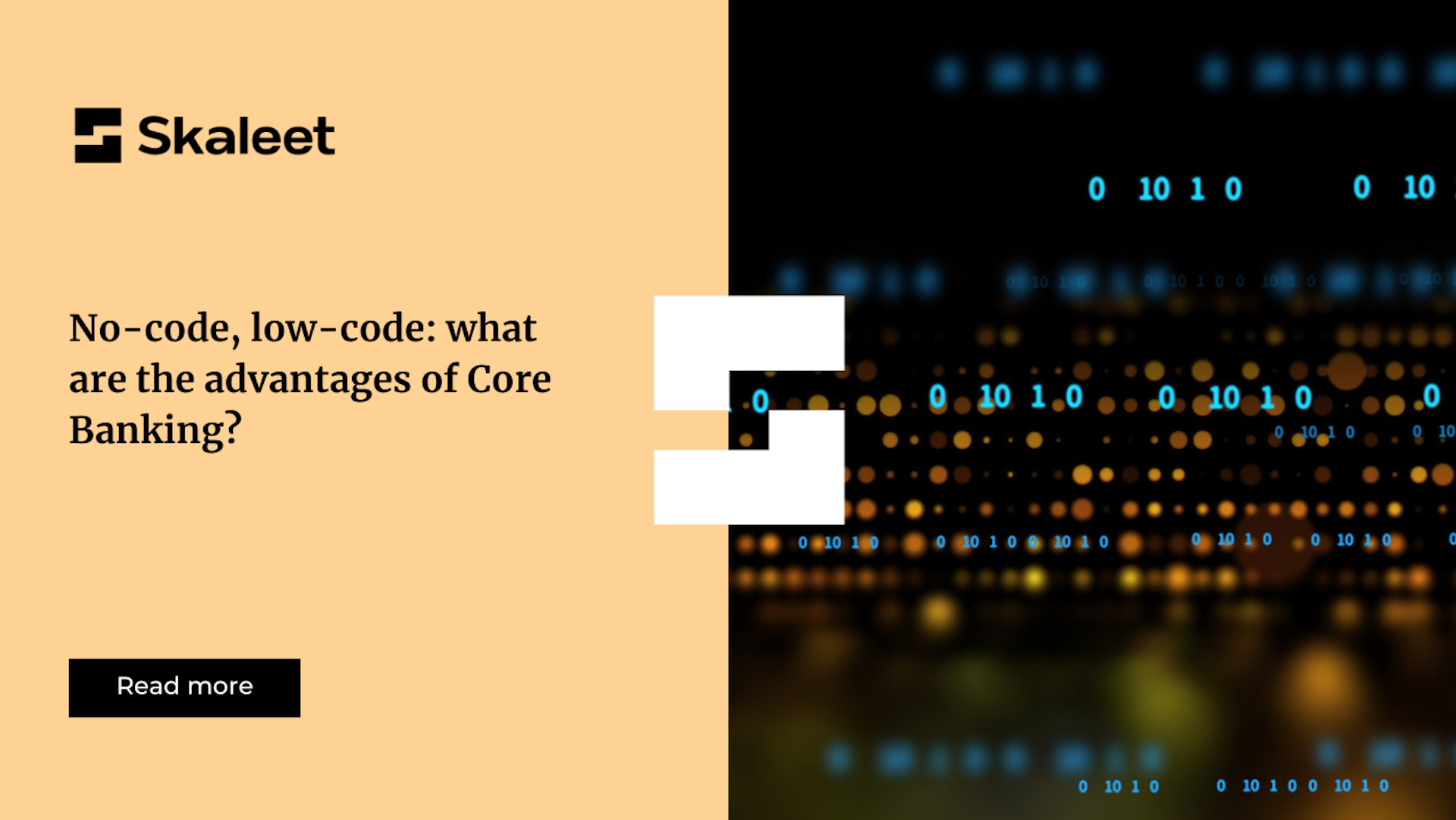 No-code/low-code solutions are booming! According to a Gartner report, 70% of new applications companies will use low-code or no-code technologies by 2025. But what is low-code/no-code? How does low-code/no-code apply to the financial sector? What are the benefits of core banking? Answers...
Low-Code, No-Code: what is it?
No-Code: definition
"No-code" refers to a software development mode that does not require coding. Thus, the user creates his software solution, application, and website without having to fill in a single line of code. To do this, he relies on pre-packaged modeling and configuration tools and pre-integrated software bricks that he can combine in plug-and-play, for example.
Low-Code: definition
The concept of "Low-Code" means "Little Code ."It requires little programming to develop a software solution. The development is lightened while leaving room for customization. Again, the user can combine several bricks - or pieces of code - in plug-and-play and customize them if he wishes.
NO-Code, Low-Code: what are the differences?
No-code and low-code meet the same need: to make developing applications more accessible and to open IT to people without specific programming skills. Despite this similarity, there are two main differences between these two concepts:
| | |
| --- | --- |
| NO-CODE | LOW-CODE |
| No coding skills are required. | Requires minimal coding skills. |
| The editor of the No-code solution predefines the possibilities. | The developer can customize the solution by adding a layer of code. |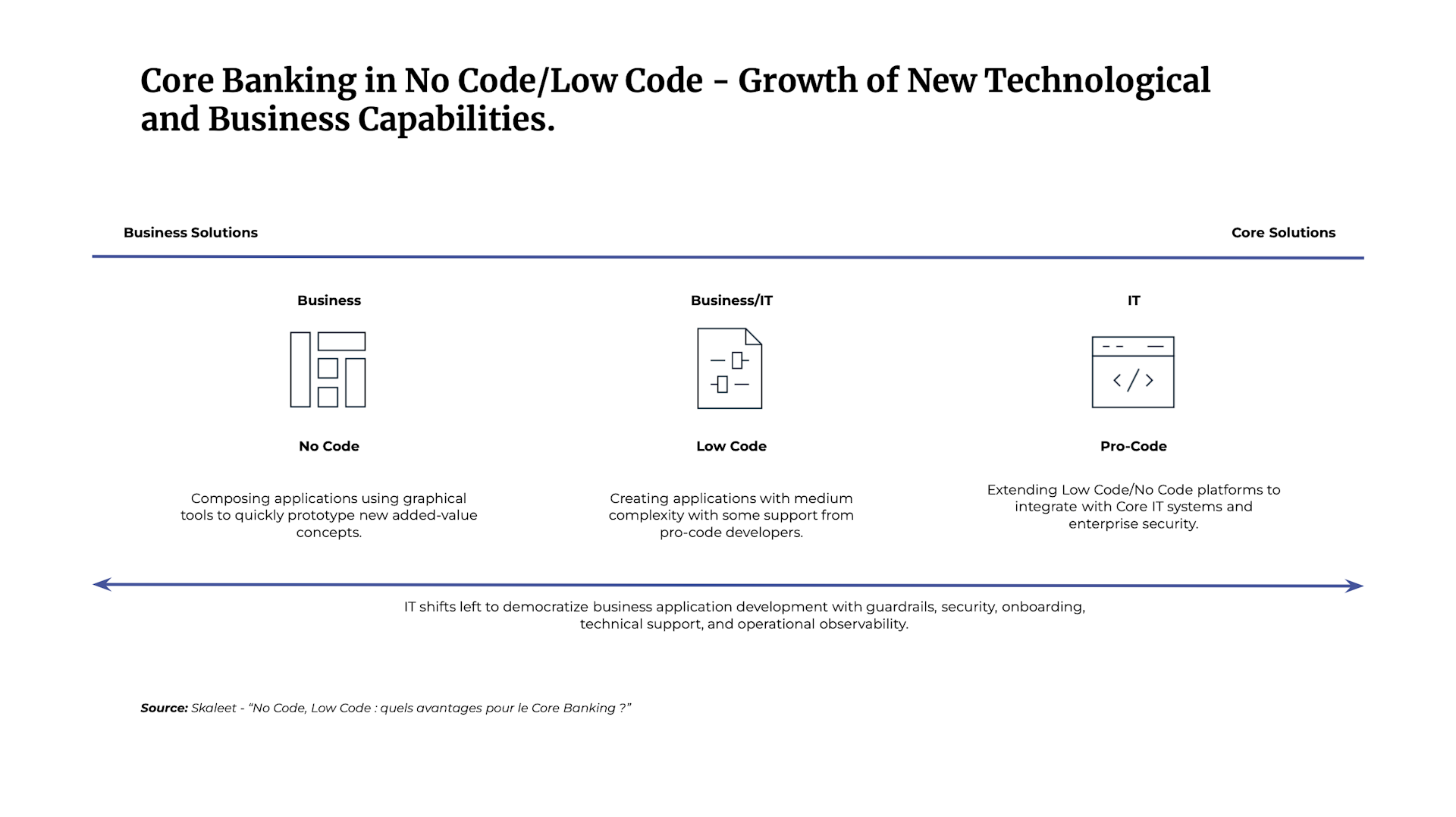 Low-Code, No-Code: what are the advantages for Core Banking?
1. Addressing the IT developer shortage
Most companies are facing a shortage of developers and other IT talent... a situation that is not likely to improve. In fact, according to the U.S. Labor Statistics, this shortage is expected to increase by 113% between 2020 and 2030. Financial players must therefore find a way to get around this lack of resources to ensure the availability of their core banking. And precisely, no-code/low-code solutions seem to be the ideal remedy! Indeed, thanks to these technologies, financial institutions reduce their dependence on human resources. Recruiting in the IT field becomes more accessible because the IT skills required to manage a no-code/low-code Core Banking Platform are less specific than for a Core Banking System (even more so if it is developed in COBOL language).
2. Save time and optimize IT resources
A study published by Zapier reveals that 37% of users of no-code/low-code solutions save between 10 and 20 hours of work per week. No-code/low-code saves IT, teams, and time, especially on maintenance and "classic" development tasks. They can then focus on innovation and developing new products and services.
The low-code/no-code therefore allows :
It is up to the financial institution to provide new and differentiating offers to gain market share and customer loyalty;
The IT department focuses on high-value-added missions, more exciting and stimulating for the team.
3. Reduce maintenance and development costs of new financial products
Developing an application based on no-code/low-code would cost 100 times less than creating a classic application (according to AppMySite). Low-code/no-code also reduces maintenance costs: developers no longer need to spend hours programming upgrades; they are integrated directly. This is a significant advantage for financial institutions, which must constantly update to comply with new regulations and eliminate technological debt!
4. Benefit from an advantageous Time to Market
According to a report published by Redhat, the use of no-code/low-code solutions can reduce the development time of an application by up to 90%. Thanks to no-code/low-code, financial institutions can release new banking products and services with an incomparable Time to Market in only a few months instead of several years. This allows them to demonstrate scalability, innovation, and differentiation.
5. Build your ecosystem of banking solutions
Finally, low-code/no-code allows financial institutions to build their own Core Banking Platform. Thanks to the integrations already carried out by the Core Banking editor, they can select the solutions they need and easily onboard them—the result: is the ability to develop a customized competitive offer and improve the customer experience.
Skaleet, a modular Core Banking Platform in No-Code/Low-Code
Skaleet has developed a modular, scalable, API-first, and above all: no-code/low-code Core Banking Platform to free financial players from technological constraints. So, you choose the modules that interest you and orchestrate your ecosystem!
Today, Skaleet's Core Banking Platform includes 11 modules offered off the shelf or through Best of Breed partners for customization:
Client-facing modules: Cards, Payment, Credit, Savings, and Deposit Accounts.
The modules necessary for managing the financial institution: Onboarding KYC, LCB-FT, Distribution, Auxiliary accounting, Regulatory reporting, and Analytics.
All these bricks are orchestrated by the Core module, which includes, for example, customer and account management, the product and operations catalog, and the pricing engine. It also manages APIs, events, and workflows.
At stake:
A large autonomy: possibility to configure and develop the desired products and services in a no-code/low-code logic and from the Skaleet API catalog;
Full automation: possibility to delegate non-differentiating products to Skaleet's Core Banking Platform to focus on innovation;
Customized orchestration: possibility to integrate new Best of Breed partners and experts in their field and to develop components around the Skaleet solution;
Proven reliability and security: 99% availability and compliance with the strictest international standards.
Build your Core Banking Platform quickly with Skaleet: contact us!
Contact Us.
Would you like to learn more about Skaleet and its solution?