April 25, 2023 • Core Banking by Marketing Skaleet
Banks: rely on a reliable and secure Core Banking Platform to accelerate your innovation 🚀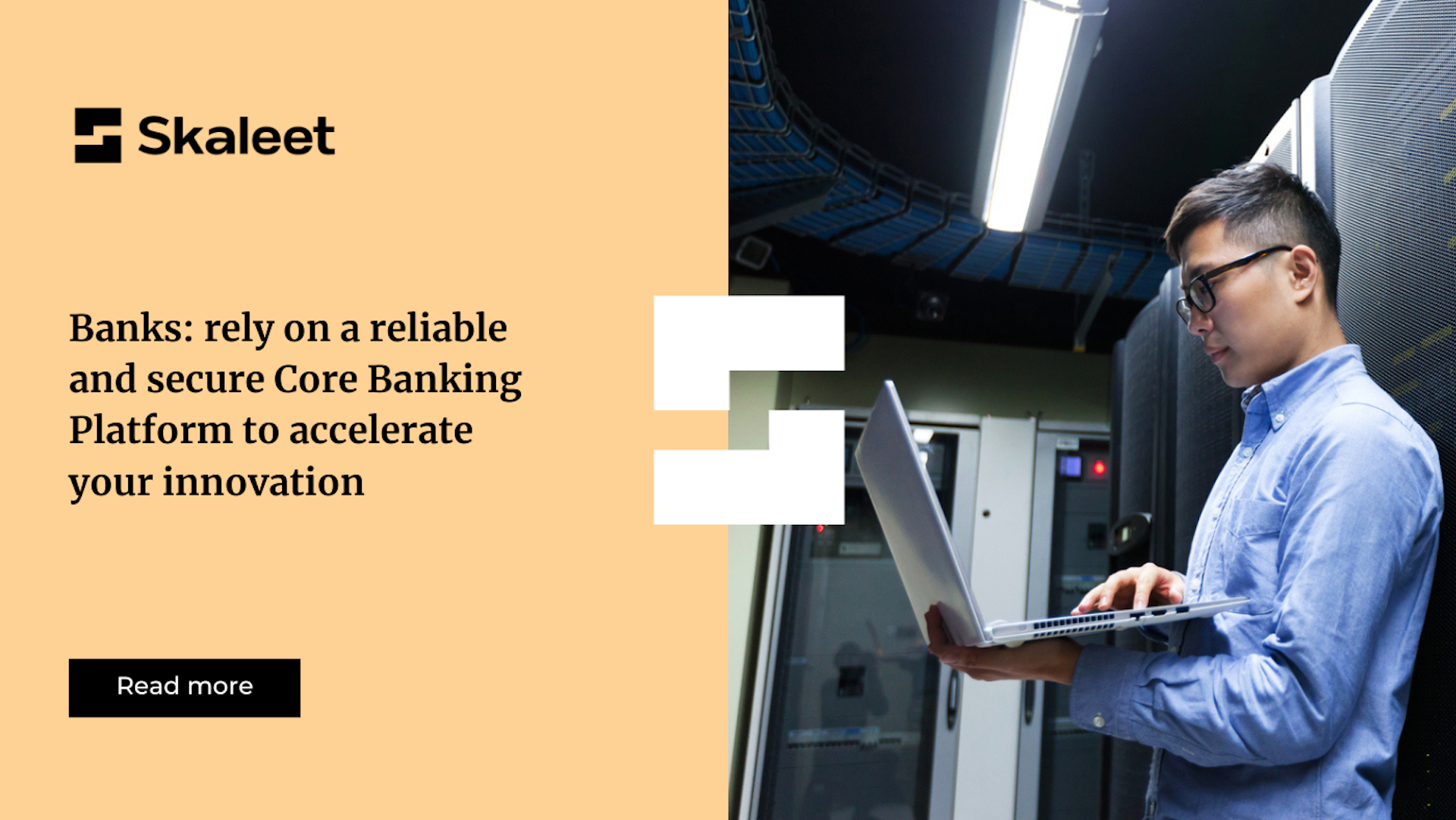 Banks are facing a major challenge: IT systems' lack of flexibility. The legacy core banking systems they still rely on must be adapted to market needs and hamper their ability to innovate and offer scalable services. Despite their stability, these monolithic technologies could be more flexible and easier to change, making it difficult to improve the customer experience and comply with new regulations. In addition, high maintenance costs and long project lead times make innovation within these systems almost impossible. Therefore, the core banking system's modernization is essential to meet the challenges of tomorrow's finance.
So how will Skaleet's secure and reliable Core Banking Platform help you accelerate your innovation? Find out in this article!
Reliability, security, innovation: the essential criteria for a high-performance Core Banking Platform
The Core Banking Systems used by most banks have two significant constraints:
The lack of flexibility in the system and project generates risks of regulatory non-compliance;
The monolithic architecture, which is difficult to evolve, makes developing new banking products and services challenging.
To make these problems a thing of the past, opting for a reliable, innovative, and secure Core Banking Platform is necessary.
The reliability of the Core Banking Platform will allow you to delegate your non-differentiating financial products and services with complete peace of mind. A robust system with flawless availability will ensure the automation of traditional banking operations. So, there is no fear that a malfunction or maintenance operation will interrupt the continuity of service. Your customers can carry out their transactions seamlessly while you focus on developing new and innovative products and services.
The innovation of the Core Banking Platform will keep you at the forefront of technology and provide greater flexibility. You can rely on an orchestrator system to evolve and stay relevant in a competitive industry, easily developing new and differentiating banking products and services. Innovation will also help you in your regulatory compliance: an innovative Core Banking Platform is, in essence, scalable. You will be able to apply new regulations quickly, thanks to the continuous updates made by the editor of your solution.
The security of the Core Banking Platform will allow you to comply with regulations, especially in terms of data protection, and, more simply... to sleep on your two ears!
Banks: Why choose Skaleet's Core Banking Platform?
✅ For its reliability
Skaleet's Core Banking Platform offers you 99.99% service availability.
By leveraging the cloud and its benefits, Skaleet provides a highly available platform for improved customer satisfaction. Our solution also allows you to delegate and automate your non-differentiating products: payment account management, payment orchestration, payment card issuing/processing management, and regulatory reporting... No need to spend time and energy on the basics: Skaleet takes care of them smoothly and efficiently!
✅ For his safety
The IT infrastructure developed by Skaleet meets the highest international banking security standards.
Skaleet's Core Banking Platform is secure by design at every stage. Everything is fully secure and compliant with ISO/IEC 27001 and PCI-DSS certification from production to deployment. We have also implemented comprehensive disaster recovery processes. So, in case of damage, your database remains intact and accessible.
✅ For its modularity
Skaleet's Core Banking Platform is built on a modular, API-first architecture.
With Skaleet, you can connect to Best-of-Breed partners and develop new components on APIs. You build your solution, choosing the features that interest you. The only limit? Your imagination! All products and services can be integrated, allowing you to innovate and offer a unique customer experience.
✅ For its scalability
Skaleet offers a Core Banking Platform in Continuous Delivery.
Skaleet's teams are continuously developing, producing, and testing new features. As a result, Skaleet's Core Banking Platform is enhanced every 2 months, so you always have unique capabilities.
✅ For its Time-to-Market
Skaleet's Core Banking Platform offers a Time to Market 4 times faster than the market average.
Skaleet's microservices architecture is robust and scalable. It allows you to independently develop and test new products for deployment in 3 to 4 months. Also, our Core Banking Platform comes with a full range of financial services already created (accounts, deposits, loans, payments...): it's up and running in one click!
How do you integrate Skaleet's Core Banking Platform into your technology ecosystem?
Core banking transformation or migration programs typically take years, which is out of step with today's world. To help you quickly realize the full benefits of a next-generation Core Banking Platform, Skaleet offers a streamlined integration process using a hybrid approach.
This hybrid approach allows you to use Skaleet's Core Banking Platform alongside your current solution. This coexistence will enable you to launch innovative new products and services quickly without impacting your existing product offerings.
Also, read Key Considerations for Successful Core Banking Migration 💡
This Test & Learn approach will allow you to focus on a limited scope rather than modifying your entire current core banking system. You can test and experiment with the Skaleet solution on a new project: the risk and project time will be considerably reduced. This adaptable and scalable approach will allow you to innovate reliably and securely!
So, become your own business architect by building your innovation ecosystem with Skaleet: contact us!
You might also be interested in ...
Innovation. FinTech. Digital Banking. Neobanks. Open Banking. Core Banking. Cloud.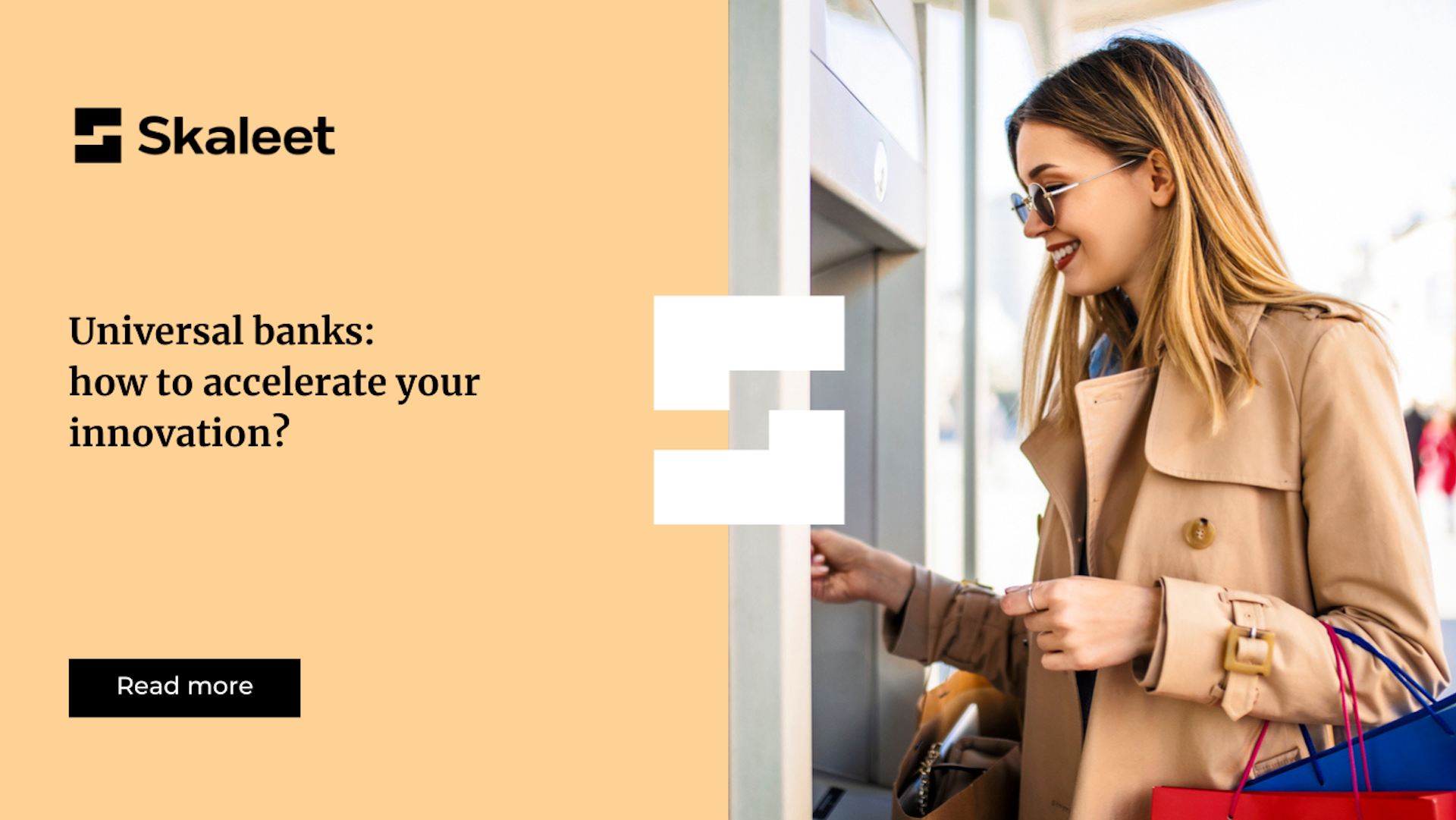 April 18, 2023 • Neo banks by Marketing Skaleet
Universal banks: how to accelerate your innovation?🎢
Universal, or traditional, banks are constantly looking to...
Contact Us.
Would you like to learn more about Skaleet and its solution?