September 26, 2023 • Payments by Marketing Skaleet
Mobile money: definitions and benefits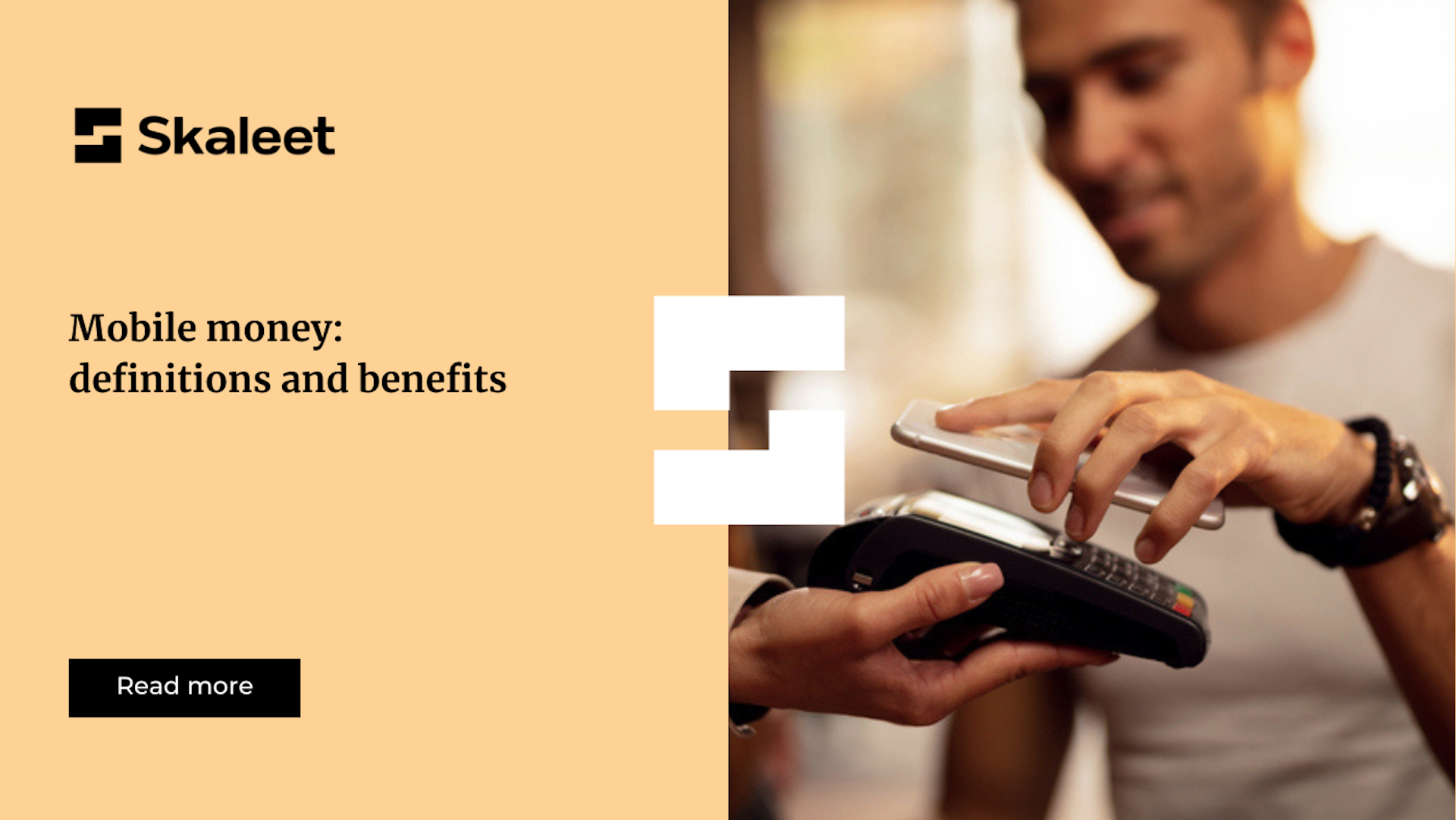 Mobile money, or mobile payment, has emerged as a significant financial innovation in recent years. This technology has revolutionized payment habits worldwide, particularly in regions with limited access to traditional banking services. In line with the digitization of financial services, mobile money meets the challenges of inclusion, transaction security, and facilitating monetary exchanges. In an ever-changing financial environment, it is essential to understand the challenges and benefits of this new technology in the spotlight.
Mobile money: what are we talking about?
Mobile money, or payment by phone, refers to using cell phones to carry out financial transactions, transfer money, pay for goods and services, and access essential banking services. This technology enables people without bank accounts to transfer, spend, and manage their money from their phones.
Mobile payment: a revolution born in Africa.
First launched in Kenya in 2007, mobile money has rapidly become popular in Africa due to the limited access to traditional banking services and the lack of financial infrastructure that impacts many regions. At the same time, over the past few decades, Africa has seen a high penetration of cell phones across the territory, creating an environment conducive to using mobile money, even in remote areas.
The origins of the M-Pesa project (M for Mobile and Pesa meaning "money" in Swahili) are simple: the service enables money to be deposited in an account in a cell phone and sent via secure SMS using a personal identification number (PIN). Mobile money thus meets the inclusion challenge by offering an accessible alternative to bank accounts for people previously excluded from traditional financial services.
Combining simplicity, accessibility, and low costs, mobile money adapts to traditional uses (adoption of the cell phone) and to the structural and economic upheavals (COVID-19) that populations face by ensuring connectivity, security, speed, and efficiency of transactions.
Mobile money: development and diversification of services
Initially thriving in Africa, mobile money is now used worldwide. According to a report published in 2023 by the GSMA, there were 1.6 billion registered mobile money accounts worldwide in 2022, nearly half of them in sub-Saharan Africa. The total value of mobile money transactions rose by 22% in 2022 to almost $1,260 billion.
Now considered a mainstream financial service in many countries, mobile money has diversified its services and use cases. Several operations have been on the rise in recent years, accounting for an ever-increasing share of mobile money transactions. These include.
Bill payments: growing by 36% by 2022, this is the fastest-growing category of mobile money transactions. It represents nearly 88 billion dollars.
Merchant payments include proximity payments (in-store purchases) and online payments. After almost doubling in 2021, the total amount of merchant payments will increase by 17% in 2022 to reach nearly $78 billion.
Bundled payments are payments of salaries or social benefits and money transfers for humanitarian purposes. In 2022, these transactions exceeded $80 billion.
International remittances: up 28% and having significantly benefited from the development of digitization during the pandemic, mobile money is becoming an attractive option for sending money abroad. These transactions will account for $21 billion by 2022.
Transactions based on interoperability: transactions between banks and mobile money platforms are growing steadily (36% for transfers from the banking system to mobile money networks). This confirms the complementary nature of these two services and reinforces the key role of mobile payment within the financial ecosystem.
Financial institutions and mobile money: what are the advantages?
With such growth, mobile money integration has become imperative for financial institutions, so much so that more and more banks are now integrating this technology into their service offerings.
Firstly, mobile money promotes inclusion in basic financial services, guaranteeing security in regions where traditional banking services are still underdeveloped.
Read also: Mobiblanc Finance and Skaleet team up with Banque Nationale de Mauritanie to launch "Click" mobile payment solution
Mobile money also makes it possible to reach a wider audience, extending its reach beyond national borders. Financial institutions can offer cross-border money transfers and innovative services in underserved countries.
By offering practical services accessible via cell phones and increasingly in demand by users, financial institutions are proving their ability to adapt to digitalization and the new needs of their customers. In this way, they can strengthen their position in the financial market, gain a competitive edge, reinforce customer loyalty, and improve customer satisfaction.
Skaleet, an international fintech providing a new-generation Core Banking Platform (CBP), supports the digital transformation of the financial sector and offers the integration of innovative turnkey solutions to add value and meet the sector's new requirements. Would you like to benefit from the best mobile payment applications? Contact us
Contact Us.
Would you like to learn more about Skaleet and its solution?