September 28, 2022 • Payments by Marketing Skaleet
Mobiblanc and Skaleet join forces with the National Bank of Mauritania to launch the "Click" mobile payment solution 📱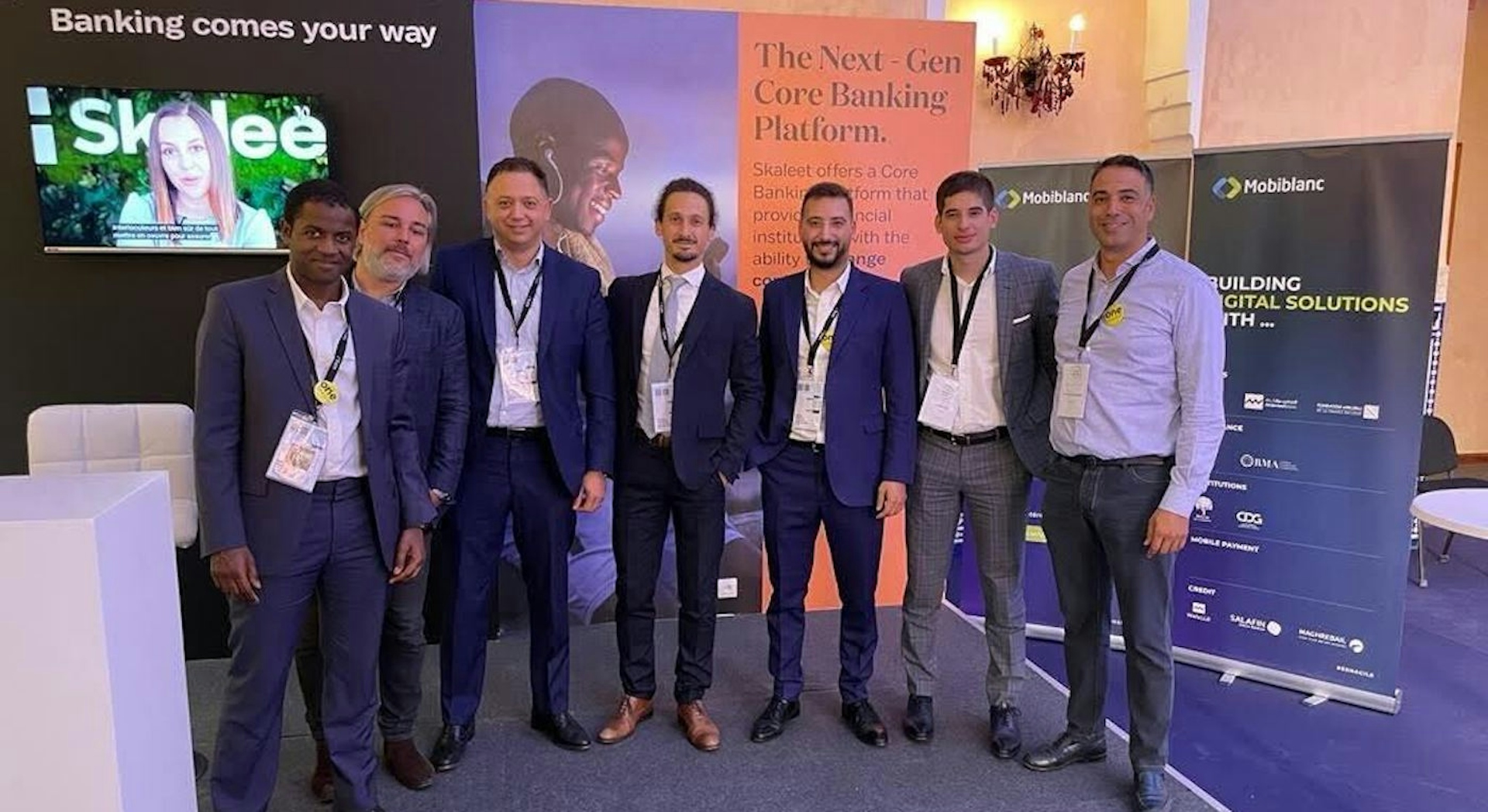 Casablanca, 26 September 2022 - Mobiblanc Finance, a subsidiary of ESN Agile Mobiblanc, and Skaleet, an international fintech providing a Core Banking Platform, have just announced the launch of a new mobile payment project with the National Bank of Mauritania (BNM).
On the framework of the Strategy for Accelerated Growth and Shared Prosperity (SCAPP), the main objective of which is to lead Mauritania to financial emergence by 2030, the BNM, has a crucial role to play in terms of financial inclusion and massification of electronic payment means intends to provide populations with a digital banking platform and a mobile payment solution, by offering legal tender electronic money to meet the demand resulting from the decline in the use of cash in payment transactions.
Thus, the BNM will help to remove the obstacles that hinder economic development for which digitalization is a lever that would clearly improve access to financial services, with affordable costs.
The BNM has therefore launched the "Click" project, which is part of the strategic plan for the digital transformation of the BNM and which aims to combat the massive use of cash at the national level, support the strategy of financial inclusion, and facilitate the Mauritanian population's transition from a cash solution to a new digital solution while capitalizing on a strong and innovative brand.
The solution with an e-Wallet ecosystem that the BNM offers to its customers, in addition to guaranteeing security, aims to facilitate access to basic financial services for unbanked populations, develop e-Commerce in Mauritania and in the sub-region and stimulate the growth of employment and entrepreneurship.
As an ESN Agile, Mobiblanc is joining forces with the fintech Skaleet to offer the BNM a complete offer to support its digital transformation towards modern solutions.
" We are proud to support the BNM in the launch of this solution, which marks a major step in our strategy aimed at being a long-term trusted partner. "
Obbad Eddaoudi - CEO of Mobiblanc Finance.
" The "Click" solution is based on an innovative and flexible Core Banking Platform providing a full range of payment functions. This technological platform facilitates the deployment of new functionalities in a few weeks allowing the BNM to promote financial inclusion in Mauritania and Mali. "
Hervé Manceron - CEO & co-founder of Skaleet
The technological partnership between Mobiblanc Finance and Skaleet will ensure the overall functional and technical scope of the BNM's e-Wallet "Click" mobile application. The agility of these players in the North and West African market combined with the expertise of the banking sector is a technological choice of excellence for financial institutions.
About the National Bank of Mauritania (BNM):
Created in 1989 from the merger of the two largest banks at this time, the International Bank of Mauritania (BIMA) and the Mauritanian Society of Bank (SMB), the National Bank of Mauritania (BNM) has a capital of more than 28 million dollars and equity whose value is more than 45 million dollars.
Over the years, BNM has become a major player in the financial economy and has contributed to the realization of major projects, such as the OUMTOUNSY Internation Airport in Nouakchott. Its ambition is to work continuously for the growth and prosperity of Mauritania in all industries.
The BNM is an organization focused on customer satisfaction and employee comfort. With its quality services and a decentralized decision-making policy, BNM has known to be accessible, fast, and efficient in meeting the needs of all.
The bank's 330 employees and its network of 36 branches are at the service of more than 70,000 customers (individuals, companies, corporates, semi-public and worldwide organizations). It makes BNM one of the leading banks in Mauritania for serving its customers.
Les 330 collaborateurs de la banque, son réseau de 36 Agences sont au service de plus 70 000 clients (particuliers, entreprises, professionnels, organismes parapublics et étrangers). Ceci fait de la BNM l'une des banques leader de la Mauritanie au service de ses clients.
Committed to a growth dynamic, notably through the development of the Individuals & Corporates segment and the consolidation of its quality relation with companies, the BNM offers its customers and international partners all the banking and financial services of a worldwide bank. To this end, it has an extensive network of branches and excellent relations with leading international banks for a rapid and secure settlement of all local and international transactions.
Engagée dans une dynamique de croissance à travers notamment le développement du segment des Particuliers & Professionnels et la consolidation de sa relation de qualité avec les entreprises, la BNM offre à sa clientèle et à ses partenaires étrangers tous les services bancaires et financiers d'une banque universelle au service du développement de son pays. Elle dispose pour cela d'un réseau d'agences très étoffé et d'excellentes relations avec des Banques internationales de 1er ordre pour un dénouement rapide et sûr de toutes les opérations locales et internationally. For more information: http://www.bnm.mr
Contact: amadou.ba@bnm.mr
About Skaleet:
Skaleet, is an international fintech that provides a scalable and flexible next-generation Core Banking Platform (CBP) with an advanced degree of customization. This platform enables financial institutions (retail banks, digital banks, payment and e-money institutions, ...) to better meet their customers' expectations with new and evolving digital financial offers. Skaleet's Core Banking has already been implemented in more than 34 financial institutions and Skaleet manages over 8 million bank accounts worldwide. Major customers include: Société Générale, eZyness (a subsidiary of La Banque Postale) and Trust Merchant Bank. Since its creation, the fintech has raised €28.5 million from Société Générale and Long Arc Capital, which confirms its ambition to grow internationally. For more information, visit www.skaleet.com, Twitter and LinkedIn.
Contact: leila@bluejaycommunication.com
About Mobiblanc:
Founded in 2010 and based in Morocco and Tunisia, Mobiblanc is a leading player in the African market, entirely devoted to digital solutions. Its mission is to convert complexity and added value challenges, by designing solutions that are best suited to the transformation needs of its customers. With a talented and dynamic team, Mobiblanc strives to deliver consulting and integration services in a professional manner for very demanding clients in Agile mode. For more information: www.mobiblanc.com
Contact: communication@mobiblanc.com
You might also be interested in ...
Innovation. FinTech. Digital Banking. Neobanks. Open Banking. Core Banking. Cloud.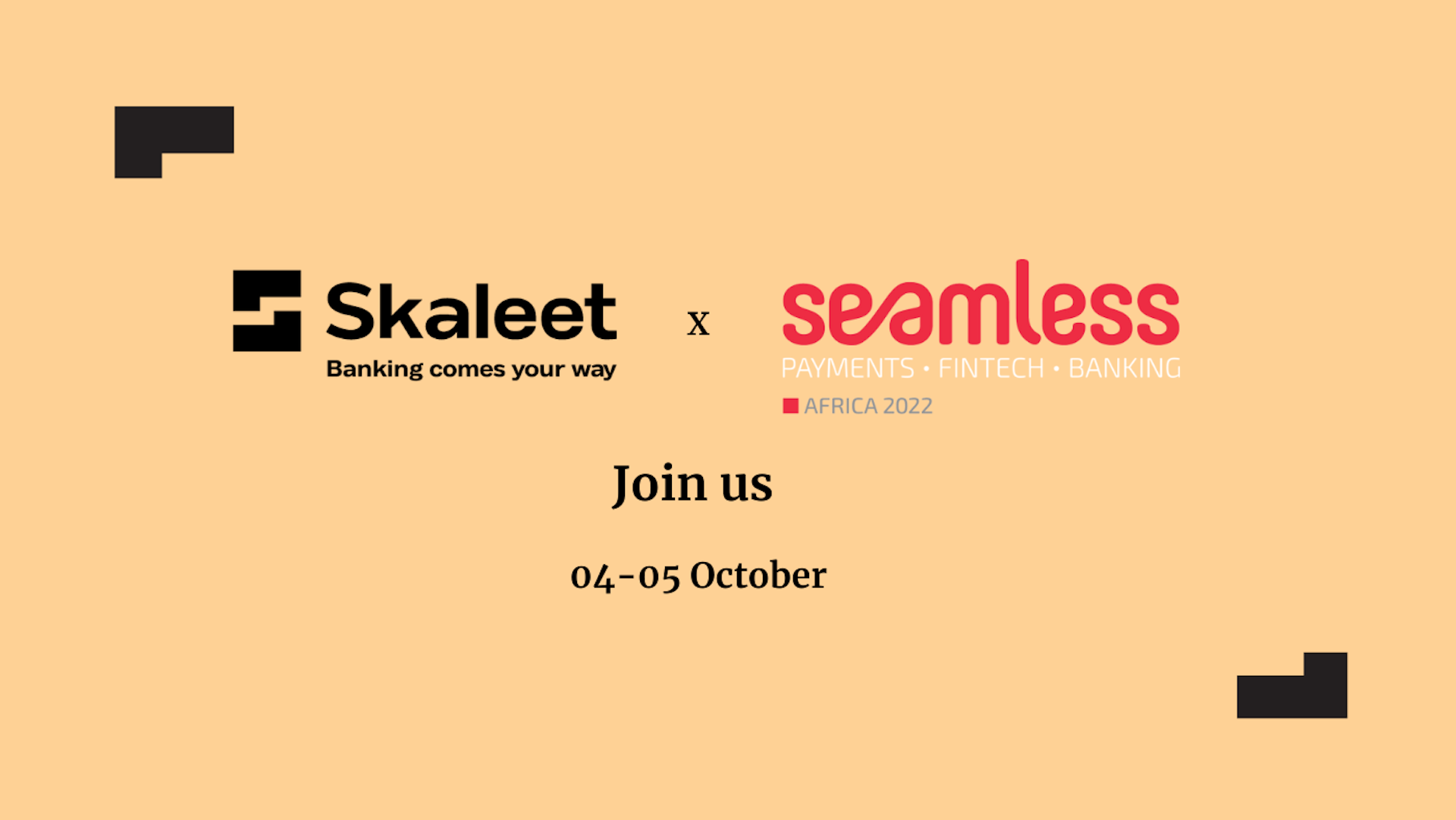 September 27, 2022 • Core Banking by Marketing Skaleet
Meet Us At Seamless in Nairobi! 🤝
Skaleet is participating at Seamless in Nairobi!
Contact Us.
Would you like to learn more about Skaleet and its solution?