April 11, 2023 • Core Banking by Marketing Skaleet
Financial institutions: gain efficiency with a next-generation Core Banking Platform 🏦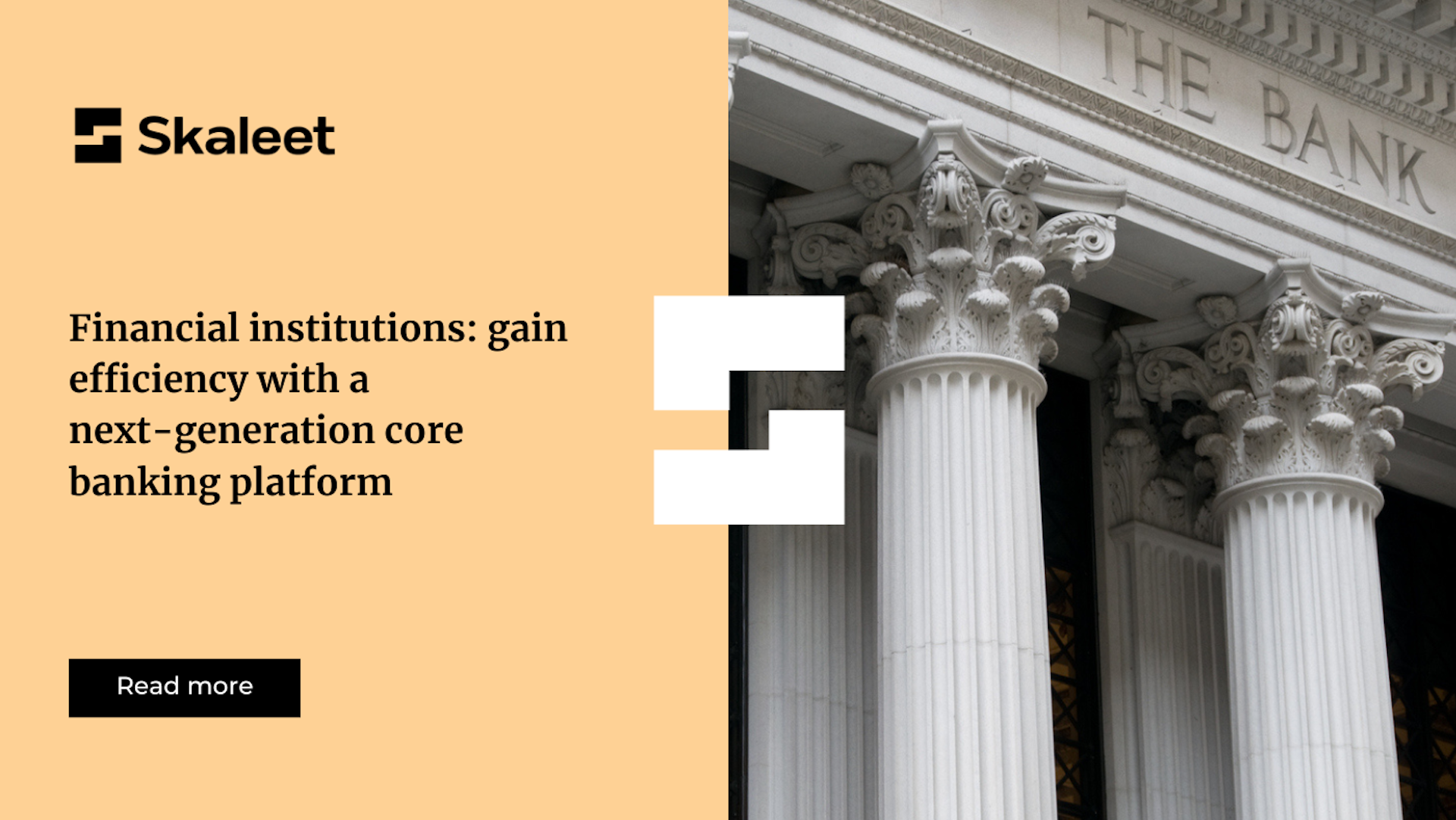 High costs, lack of IT skills, difficulty maintaining systems, lack of agility and scalability, and long time-to-market for new banking products and services. Many financial institutions face issues that affect their efficiency. Fortunately, with Skaleet's next-generation Core Banking Platform, these challenges are now a thing of the past!
Skaleet, a Core Banking Platform adapted to the challenges of financial institutions
Skaleet is a global fintech providing a next-generation Core Banking Platform, enabling financial institutions to evolve continuously. Skaleet's SaaS platform and technology power make it possible to launch new banking products and customer experiences quickly and cost-effectively.
Its modular architecture allows financial institutions to interface with the best-of-breed products and services via a documented API catalog. This orchestration approach overturns the historical paradigm of core banking by offering speed, fluidity, and agility.
Meeting the highest security standards, this next-generation solution already powers over 40 financial institutions and manages over 10 million accounts worldwide.
With Skaleet, gain in efficiency...
▪ Operational
Skaleet allows you to delegate your non-differentiating products.
Skaleet manages your non-differentiating financial products and services seamlessly and automatically. Payment account management, pay-in and pay-out orchestration, card issuing and processing management, regulatory reporting... Skaleet's Core Banking Platform covers all your business's complex but common aspects.
This means you don't have to spend time and energy on the basics - you can focus on your high-value projects and design innovative new products and services. That's how you gain operational efficiency!
▪ Technological
Skaleet allows you to integrate the modules of your choice without development.
Skaleet's open, modular, microservices architecture gives you technological power. Skaleet's Core Banking Platform is a robust and scalable solution with a full range of integrated financial services: accounts, payments, deposits, loans, etc. It is supported by a catalog of APIs and many best-of-breed solutions, allowing you to minimize product development.
You can develop and test new products independently. The platform's Plug-and-Play setting allows you to build your custom solution easily: 95% of the products deployed by Skaleet require no additional development.
Skaleet also takes full advantage of the Cloud and its benefits and ensures 99.99% service availability. What a way to gain technological efficiency!
▪ Sales
Skaleet allows you to meet new customer requirements.
Skaleet's operational and technological efficiency is a definite asset to your business. Skaleet's automated, scalable, and robust core banking lets you focus on your customers. This allows you to customize your products, services, and experiences to meet new customer demands.
Skaleet's API-first technology allows you to connect and orchestrate multiple partners to deliver a differentiated customer experience. As a result, you can build customer loyalty and gain market share by reaching new customer segments.
With Skaleet, you can enhance your customer acquisition strategy to generate new revenue streams. It's a great way to increase your sales performance.
▪ Competitive
Skaleet allows you to innovate to offer new and differentiating products.
Meeting new customer requirements is not enough: you must continuously adapt to them and deal with competitor offensives. To help you, Skaleet provides you with a Core Banking Platform for Continuous Delivery. This means you get a new version of the platform every two months, enhanced with new features. This allows you to adapt quickly to new market needs.
Thanks to its modular and plug-and-play approach, Skaleet technology allows you to release innovative new financial products and services with an accelerated time-to-market. You can launch new customizable and configurable offerings or features in 4 to 6 months. It's a great way to gain a competitive advantage.
▪ Financial
Skaleet allows you to optimize your operating costs and increase your revenues.
Skaleet's Pay-as-you-Go billing model scales to your business volumes. As a result, your Total-Cost-of-Ownership is significantly reduced, and your operating cost is 5 to 10 times lower than that of a legacy or in-house Core Banking. Skaleet allows you to improve the profitability of your core banking.
Because Skaleet's solution offers reduced IT costs and increased cost-to-revenue ratios, it allows you to focus on launching new products and increasing your revenues. It's a great way to gain financial efficiency!
To conclude...
You've got it: Skaleet's new generation Core Banking Platform allows you to gain efficiency on all fronts! Specifically designed to meet the challenges of financial institutions, it is the opposite of monolithic, costly, and difficult-to-upgrade Core Banking Systems.
At stake:
🔒A secure, high-performance IT infrastructure;
💯 Proven platform stability and availability;
🧱 A library of APIs allowing you to build your offerings and services ;
📈 Cloud native and cloud agnostic solution for agility and scalability;
⌛ Time to Market 4x faster than the market average;
🔄️ Continuous Delivery with the guarantee of a regularly improved platform;
🤝 A best-of-breed partner ecosystem.
So, become a business architect by building your very own innovate ecosystem with Skaleet: contact us!
You might also
be interested in
...
Innovation. FinTech. Digital Banking. Neobanks. Open Banking. Core Banking. Cloud.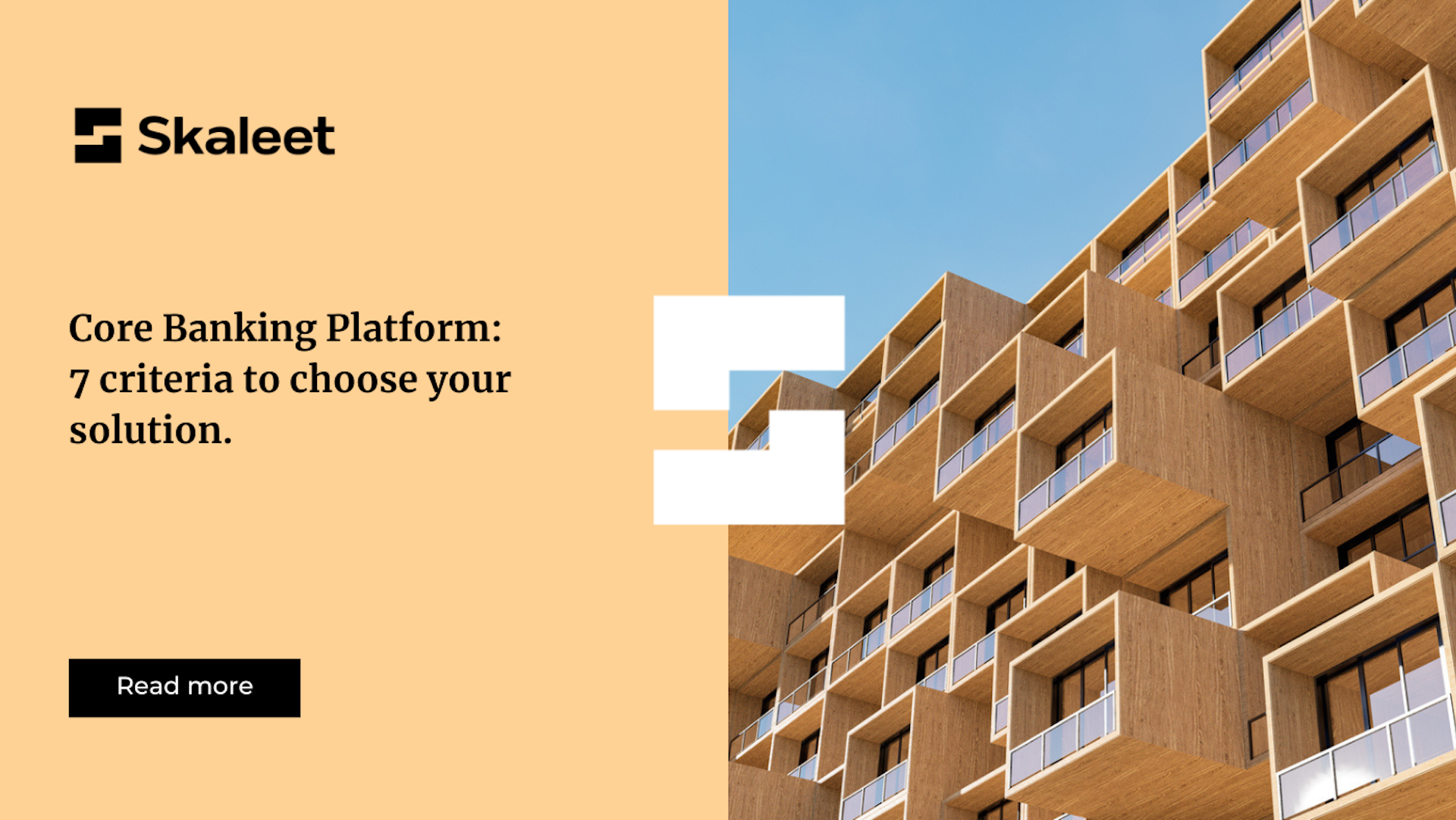 March 9, 2023 • Core Banking by Marketing Skaleet
Core Banking Platform: 7 criteria to choose your solution ✅
Are you considering adopting a Core Banking Platform or migrating to...
Contact Us.
Would you like to learn more about Skaleet and its solution?