February 21, 2023 • Core Banking by Marketing Skaleet
Cloud-Agnostic: what benefits for Core Banking? ☁️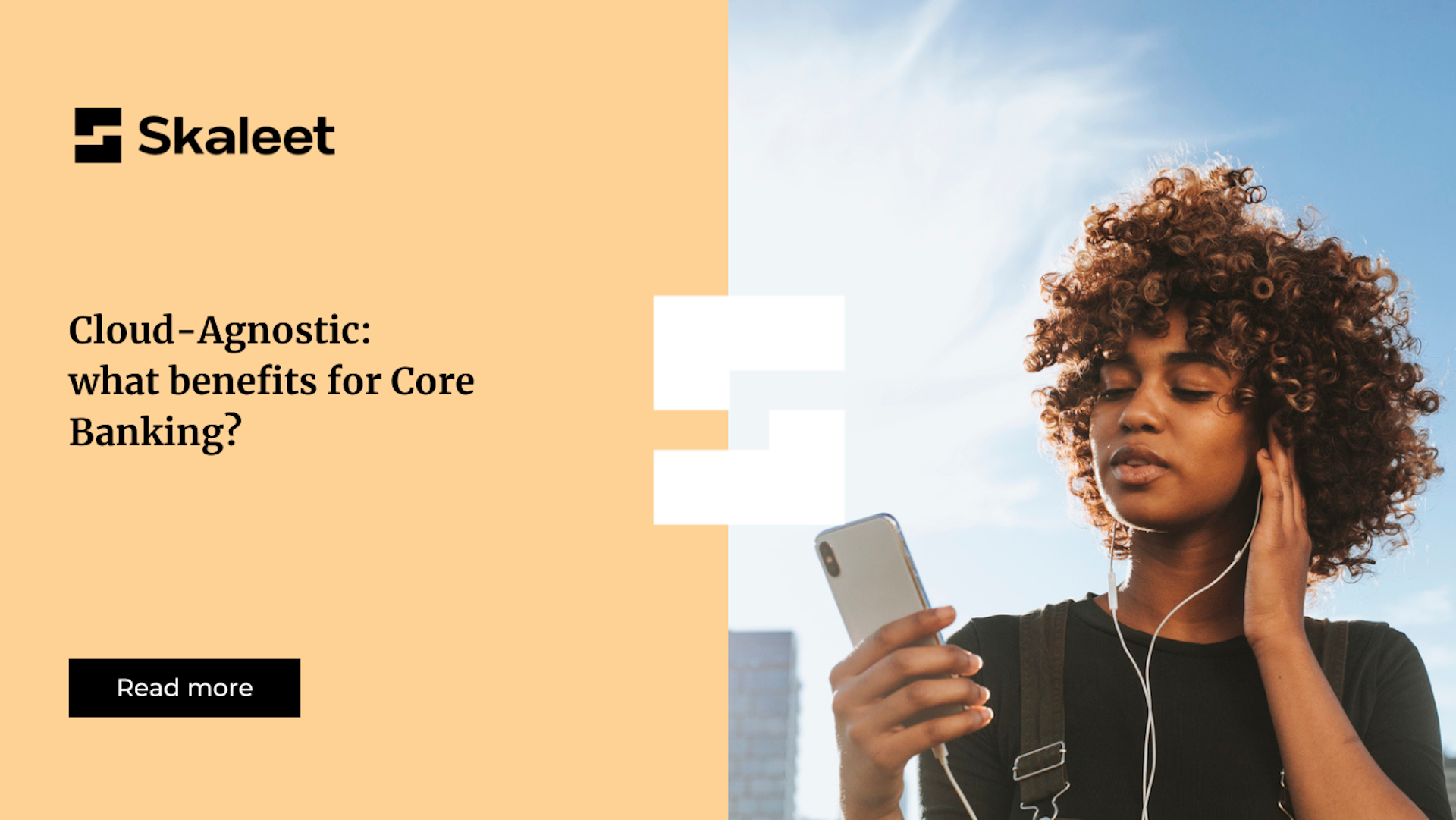 Today, the advantages of the Cloud are known and recognized, and more and more financial institutions are looking for more agility in their core banking. But what about Cloud-Agnostic? What is it exactly? What are the benefits for core banking? Here are some explanations.
Cloud-Agnostic: what is it?
Cloud-Agnostic: definition
The term "Cloud-Agnostic" refers to platforms or applications that can be hosted on any cloud infrastructure. This allows the IT system to run on multiple cloud platforms without requiring significant changes or code rewrites. In other words, the platform or cloud-agnostic application is not tied to a specific cloud provider: the Core Banking system is independent of the cloud provider.
This hosting compatibility means that Core Banking Platforms can be moved from one cloud environment to another. The cloud-agnostic approach is thus used to avoid being locked into a cloud provider, which offers greater flexibility and portability.
Cloud-Agnostic vs. cloud native: what are the differences?
The Cloud is now well known and is constantly evolving, which can lead to some confusion in terminology. To understand Cloud-Agnostic, it is essential to distinguish it from the expression "cloud-native." Although these terms are not opposed, they do not refer to the same relationship with the Cloud.
The native cloud refers to an IT architecture in which the software, platform, or application is designed to run in the cloud from the start instead of on-premises (running on a mainframe). Native cloud is not necessarily cloud-agnostic: the Core Banking cloud can be designed to run on a specific cloud infrastructure.
Cloud-Agnostic vs. multi-cloud: different approaches
Another significant distinction is the difference between Cloud-Agnostic and multi-cloud.
While Cloud-Agnostic refers to the freedom of choice of the cloud provider, multi-cloud refers to a multiplicity of hosting arrangements. In other words, an organization using multi-cloud uses multiple cloud providers for different storage. This does not mean it can move the stored objects from one provider to another. Core banking is, therefore, not necessarily cloud provider independent, unlike the cloud-agnostic approach.
Cloud-Agnostic: what are the advantages for Core Banking?
The financial sector is undergoing profound technological, competitive, structural, and regulatory changes. To meet this need for scalability, more and more organizations are turning to Core Banking Platforms hosted in the Cloud. Some of the vendors of these solutions offer a Cloud-Agnostic approach. This provides several advantages to core banking.
1. The Cloud-Agnostic: for choice
If a Core Banking Platform is Cloud-Agnostic, its editor can change cloud provider in all agility. It is not locked in with its host and can make the best decisions to meet the needs of its customers best. Opting for a Core Banking Platform Cloud-Agnostic such as Skaleet will allow you to rely on a sustainable and fully independent solution.
2. The Cloud-Agnostic: to reduce the risks.
Cloud-Agnostic then reduces risk and increases responsiveness in the event of a problem. Since the Core Banking Platform Cloud-Agnostic can be deployed on any cloud infrastructure, the vendor can quickly switch to another provider. The cloud-agnostic approach allows the editor of your Core Banking Platform to protect you from downtime risks, security compromises, and performance degradation of the cloud provider. If such situations were to occur, your Core Banking Platform vendor could quickly migrate to another cloud infrastructure so that you are not impacted.
3. The Agnostic Cloud: for data autonomy
The financial sector is subject to strict regulations. In particular, some countries require that data processed by financial institutions be hosted on national territory. As such, relying on a Core Banking Platform Cloud-Agnostic allows you to choose the cloud that meets your security requirements and regulatory constraints.
Skaleet, a cloud-agnostic Core Banking Platform for more freedom, security, and availability
Skaleet offers a new generation Core Banking Platform solution in SaaS mode, hosted by a reference, expert, and innovative cloud provider: OVH.
OVH is the cloud provider that allows Skaleet to ensure the best compromise between quality, security, and data sovereignty. A French company, and therefore not subject to the Cloud Act, OVHcloud currently hosts over 400,000 servers in over 33 data centers and is in 140 countries.
In addition to ISO 27001, SOC 1 Type II (SSAE 16 and ISAE 3402), and SOC 2 type II certifications, OVHcloud can now offer PCI-DSS hosting or authorize the deployment of applications managing health data (HDS approval).
Skaleet has also chosen a Cloud-Agnostic approach to guarantee perfect agility to its customers. The objective? To give maximum flexibility and scalability to its customers for developing and launching new products while meeting their security requirements.
Thus, Skaleet:
You are guaranteed an availability rate of 99.99% and optimal security of its Core Banking Platform, independently of the chosen cloud provider;
Can transpose its technology to any hosting company;
Adapts to your sovereignty and security issues;
It offers you a sustainable, independent, and flexible solution!
Skaleet's value proposition for its infrastructure hosting
⌛ Time to market
Deployment on a dedicated instance for each customer is carried out in an industrial and automated way to guarantee an optimized Time to Market.
🪙 Costs
The implementation costs of the solution are controlled and lower than those of a local installation.
✅ Availability
The cloud infrastructure offers the highest availability based on several technical components (e.g., automatic switchover to a backup host without any service interruption, load balancer...).
🔄️ Continuity
All data is backed up twice, once in a storage space external to the hosting company. This ensures that the data is kept in case of a significant incident.
🔐 Safety
Skaleet's development, deployment, and operation methodology focuses on the security of hosted data. Internal control procedures, regular external audits, and security monitoring ensure a high level of security and data protection for our customers' infrastructure.
📊 Monitoring
A permanent infrastructure monitoring with real-time status information on all equipment and modules.
📈 Scalability
Natively scalable, Skaleet is a solution designed to grow with you. The use of additional resources is done through automated deployment processes.
🤝 Service level agreement
Our SLAs cover the availability rate, response time, qualification, and resolution of production incidents reported to our support teams.
🚀 Performance
The performance of our infrastructure is monitored and tested regularly to ensure the optimal performance of our services.
So, you're looking for a cloud-agnostic core banking platform but, above all, reliable, efficient, and scalable? Then contact us!
You might also
be interested in
...
Innovation. FinTech. Digital Banking. Neobanks. Open Banking. Core Banking. Cloud.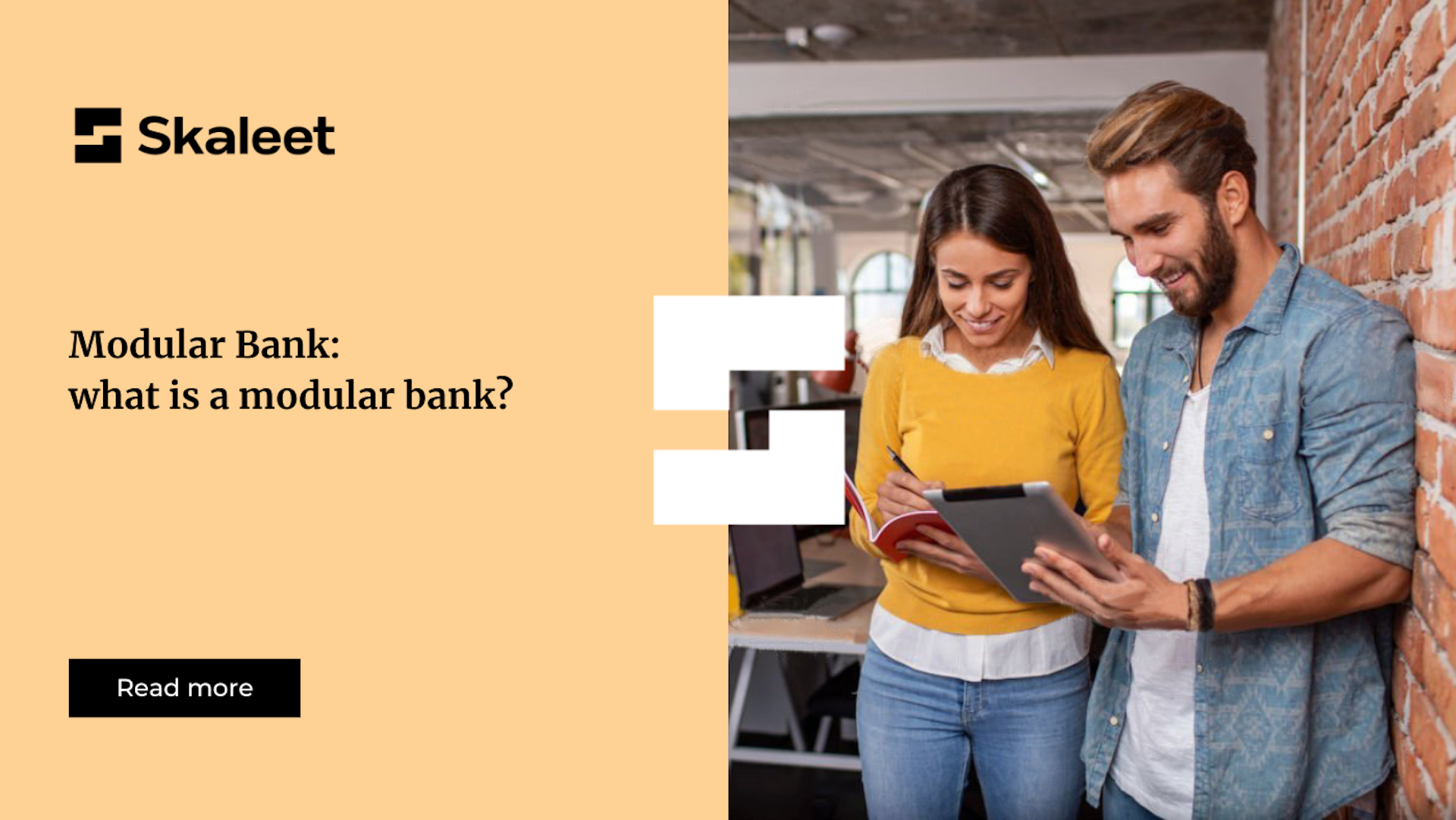 February 14, 2023 • Core Banking by Marketing Skaleet
Modular Bank: what is a modular bank? 🧱
In recent years, fintechs, neo banks, and other big techs have emerged...
Contact Us.
Would you like to learn more about Skaleet and its solution?