January 12, 2023 • Core Banking by Marketing Skaleet
Banking as a service, banking as a platform, open banking, cloud banking… The big lexicon of finance 4.0! 📖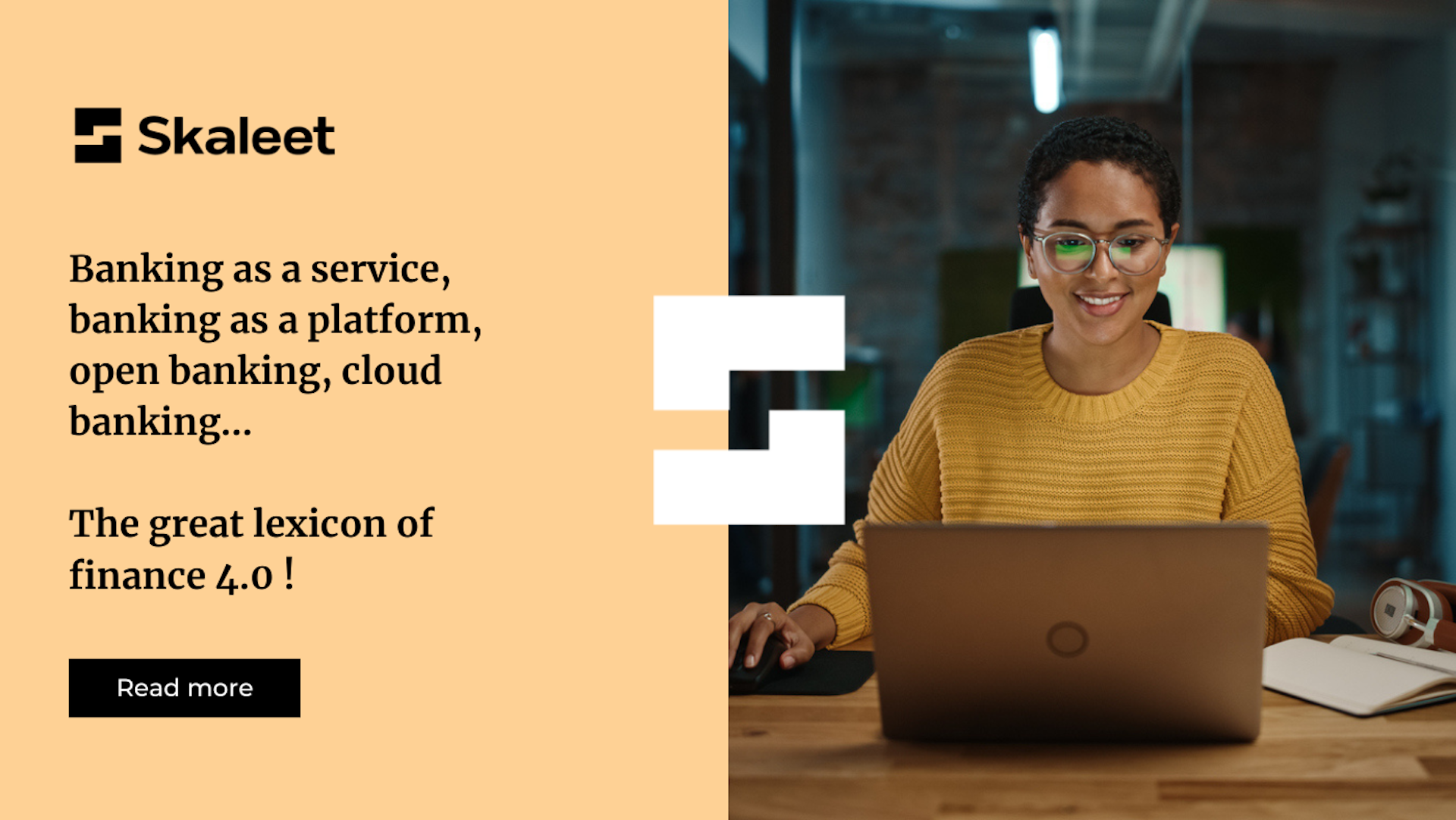 With the emergence of new banking business models and the rapid development of fintech, getting your head around it can sometimes be challenging. Banking as a service, banking as a platform, open banking, cloud banking, neo banking... The jargon of today's financial world seems to grow with ever more complex terms. To help you shed light on this emerging vocabulary, here's an overview of the lexicon of finance 4.0!
Finance 4.0
Before we get into the details of Finance 4.0 terms, a definition of this initial concept is in order. Finance 4.0" refers to using advanced technologies to improve and transform financial services. This new generation of finance offers considerable opportunities for innovation and creates immense value.
Cloud banking ☁️
Cloud banking is a business model that uses cloud computing to deliver consumer financial services. For banks, fintech, and other financial institutions, cloud banking means storing and processing financial data centrally on remote servers, allowing them to reduce infrastructure costs and make their services more accessible and scalable.
Read also: Cloud Core Banking - A new growth opportunity!
Banking as a Service
Banking as a Service, abbreviated BaaS, is a business model which allows a company to offer banking services to its customers without developing a banking infrastructure. BaaS uses a cloud-hosted platform that allows new players to provide financial services, usually associated with banks or financial institutions. Banking as a service can thus be defined as a white-label banking service: a regulated banking institution makes its license and infrastructure available to unregulated third parties. A non-banking company can then integrate financial services such as debit cards, loans, and payment services... without having a banking license. Finance here becomes a feature rather than a function.
Embedded finance
Embedded finance allows non-financial companies to integrate banking services: transaction accounts, payments, and loans... Whether it's a giant like Amazon with one-click payment or an e-commerce site with 4-in-1 payment, Embedded finance speeds up and facilitates transactions between a company and its customers.
Read also: Embedded Finance, a growth lever for SMEs... and Financial Institutions.
Banking as a Platform
Banking as a Platform, also known as BaaP, is a relatively new concept encompassing two different definitions. In the first case, BaaP refers to a business model in which a banking institution provides a technology platform as a service to non-financial companies and organizations. The latter can then develop and offer their financial products and services (BaaS). In the second, BaaP refers to a third-party developer who designs a platform for banks and financial institutions. In this way, the bank or financial institution integrates third-party services (generally developed by fintechs) to enrich its offer and propose innovative financial services to its customers.
Open banking
Open banking aims to promote the sharing of financial data in complete security between financial service providers (banks, PSPs, insurance companies, and fintechs...). In concrete terms, consumers and companies can authorize banks or financial institutions to access and share their banking data through secure digital channels. The objective of open banking is to make financial services more accessible, more fluid, and more affordable.
Neobanking
Neobanking is the development of a new bank, a digital-only financial institution with no traditional physical branch. Neobanks are financial technology companies that provide digital and mobile solutions for managing payments, money transfers, loans, and financial analysis... Neobanks do not have a banking license (so they cannot be called "banks") but rely on banking partners to provide regulated financial services.
Read also: Why do neo-banks have to reinvent themselves already?
Digital banking 👩‍💻
Digital banking can be defined as the digitalization of traditional banking services. Universal banks have adapted to the new digital uses by digitizing themselves, allowing their customers to access online banking functionalities and services (from their website or mobile application). Digital banking thus responds to the evolution of interactions between banks and their customers.
Core banking
Core banking is software used to manage the operations of a banking or financial institution. The associated services typically include account management, payments, money transfers, credit cards, and loans. Core banking is managed by a central computer system that allows banks to process and manage their customers' financial transactions efficiently and securely.
Read also: Core Banking Systems vs. Core Banking Platforms: why switch to a next-generation solution?
Modular banking 🧱
Modular banking is a business model that offers multiple banking services, i.e., using independent modules that can be combined in different ways to create customized financial services. Modular banking thus allows banks and financial institutions to offer more flexible financial services that are genuinely tailored to the individual needs of their customers.
Finance 4.0 and its concepts represent a significant opportunity for financial and non-financial players. They allow them to innovate and offer new experiences to their customers, more fluid, more secure, and more accessible.
Skaleet has developed a Core Banking Platform to address new practices, enabling financial and non-financial institutions to quickly launch new banking products and experiences at a competitive price. Want to learn more? Download our presentation!
You might also be interested in ...
Innovation. FinTech. Digital Banking. Neobanks. Open Banking. Core Banking. Cloud.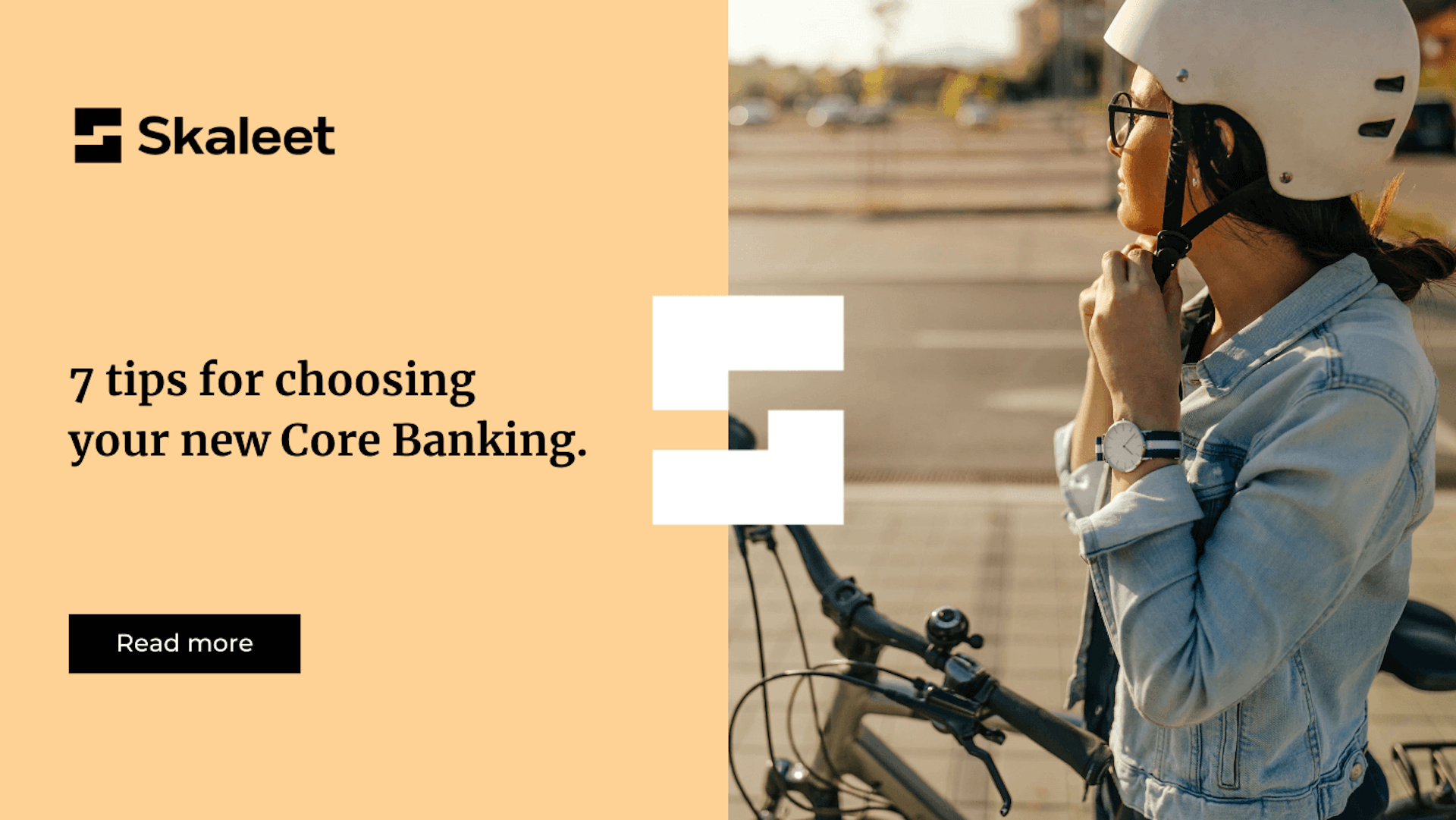 November 9, 2021 • Core Banking by Marketing Skaleet
7 tips for choosing your new Core Banking 💡
Choosing a Core Banking solution should not be taken lightly.
Contact Us.
Would you like to learn more about Skaleet and its solution?