May 25, 2023 • Core Banking by Marketing Skaleet
Fintech: rely on a Core Banking Platform to gain flexibility while maintaining your autonomy! 🥇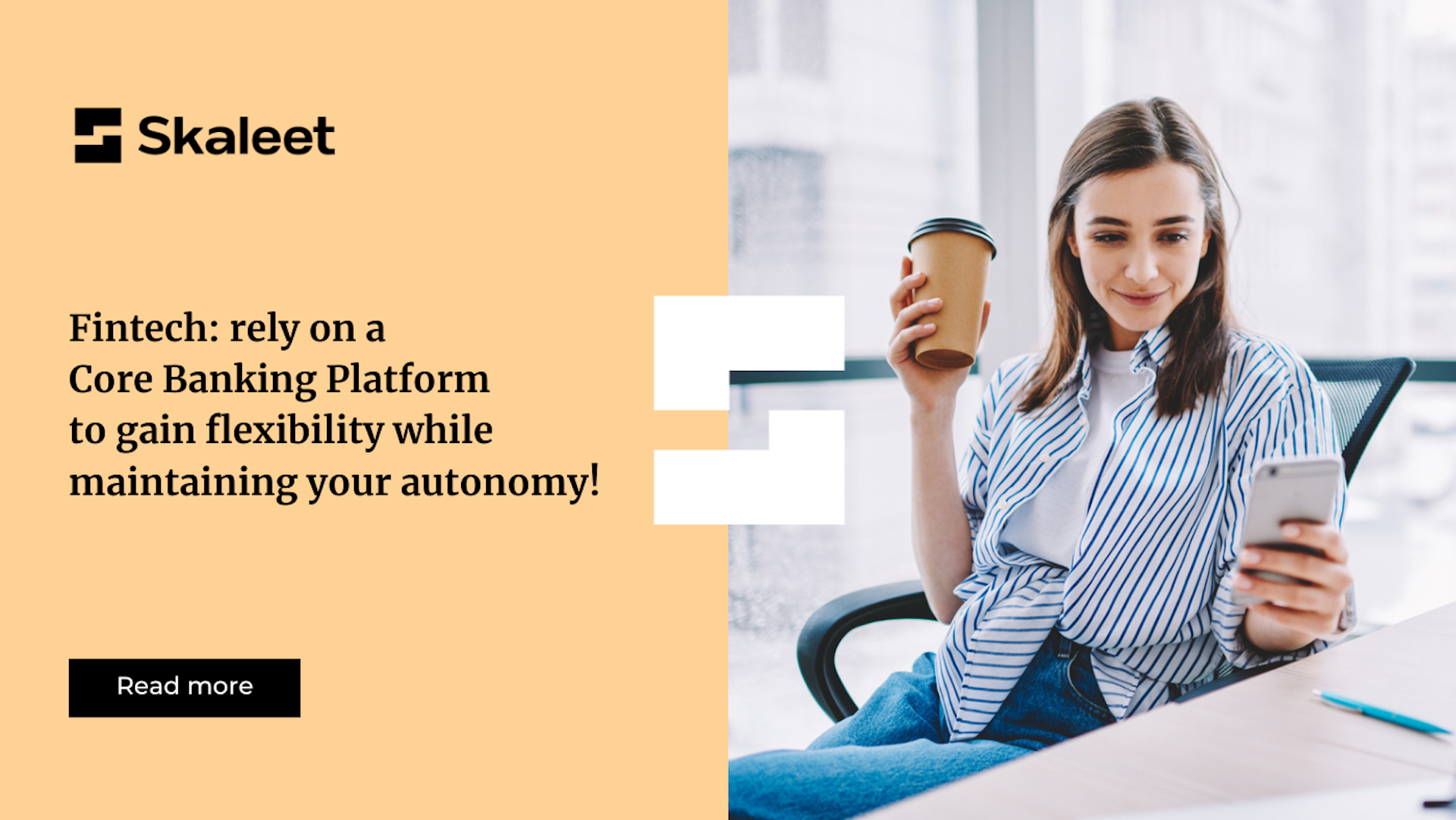 For several years now, fintechs have been expanding rapidly. They are one of the most convincing examples of the transformations driven by widespread digitalization and are redefining the codes of traditional finance. As Pierre Gramegna, Luxembourg's Minister of Finance, said, "Fintechs are not a facilitator, but the engine of change! However, to take on this role, it is necessary to be flexible and autonomous, particularly in an agile and scalable technology. Let's decipher!
The key role of core banking for fintechs 🗝️
To be competitive, fintechs must offer their customers innovative financial products and services and demonstrate the ability to evolve continuously. And since core banking is the basis of all financial operations, it must be the foundation of this innovation and scalability.
To provide efficient and differentiated financial services, fintechs must turn to new technologies. In this respect, Core Banking Systems cannot meet the needs of fintechs.
Indeed, because of its architecture and infrastructure, the Core Banking System hinders the scalability of services offered by fintechs. These monolithic technologies remain inflexible and slow to change, creating difficulties when fintechs want to comply with new regulations or develop new products/services to enrich their customer experience. Indeed, product offerings developed on Core Banking Systems are particularly difficult to customize to meet new use cases... which is unthinkable for any fintech worthy of the name!
In contrast, Core Banking Platforms are designed in a modular fashion. This architecture allows for localized changes that are faster and easier to test and launch. It also improves configurability and scalability, allowing fintechs to provide additional services via API.
Read also: Financial Institutions: Gain Efficiency with a Next-Generation Core Banking Platform
Skaleet is the Core Banking Platform that will allow you to gain flexibility...🤸‍♀️
To meet the challenges of scalability and innovation of fintechs, Skaleet has developed a new generation Core Banking Platform based on a modular architecture through APIs. This cloud-native and scalable SaaS platform meets the adaptability imperative of a constantly evolving environment.
First, you gain flexibility because you save time. Skaleet's Core Banking Platform automates the management of the complex, non-differentiating elements of your business (e.g., funds segregation, payment account management, payment card issuing/processing back-end, connection to legacy systems such as SEPA/ACH, regulatory changes, etc.). It allows you to focus on the high value-added elements of your business, such as designing new differentiating products and new customer experiences.
Second, you gain flexibility because you benefit from a catalog of APIs and best-of-breed solutions. Skaleet allows you to build your solution according to your challenges and to enrich your Core Banking according to your needs. All products and services can be integrated... So, you can innovate without constraints!
Finally, you gain flexibility because you accelerate your Time-to-Market. You can develop new products quickly and independently based on a robust and scalable microservices architecture. Thanks to its agile technology, Skaleet offers a Time-to-Market 4 times faster than the market average. This means you can build new, modern payment services with an unmatched time-to-market that allows you to adapt to change.
...while maintaining your autonomy!🥇
Skaleet's modular and highly configurable Core Banking Platform gives you access to powerful technology that accelerates innovation. You can autonomously create your ecosystems.
The low-code/no-code logic of Skaleet's Core Banking Platform allows you to select the solutions you need and easily onboard them, thanks to the integrations already made. And for the geeks among you: it is also possible to create your developments and integrate them into the solution to further enrich the field of possibilities! You can independently develop and test new products to make a customized competitive offer and improve the customer experience.
The Continuous Delivery deployment of the platform also guarantees that you will always have a solution that is up to date, with new features available every two months.
Read also: Core Banking Platform: 7 criteria to choose your solution
To conclude...
You will have understood: Skaleet allows you to gain flexibility thanks to its modularity and to keep your autonomy thanks to its configurability. All this, with proven reliability and security: 99.99% availability and compliance with the strictest international standards.
At Skaleet, co-construction is the engine of any successful solution. Our goal? To help you create new payment and revenue streams by enabling you to launch new user applications freely and easily. Easily build your own Core Banking Platform with Skaleet: contact us!
Contact Us.
Would you like to learn more about Skaleet and its solution?