April 6, 2023 • Core Banking by Marketing Skaleet
AMLYZE and Skaleet in a partnership to bolster FinCrime prevention to the new level among financial institutions 🤝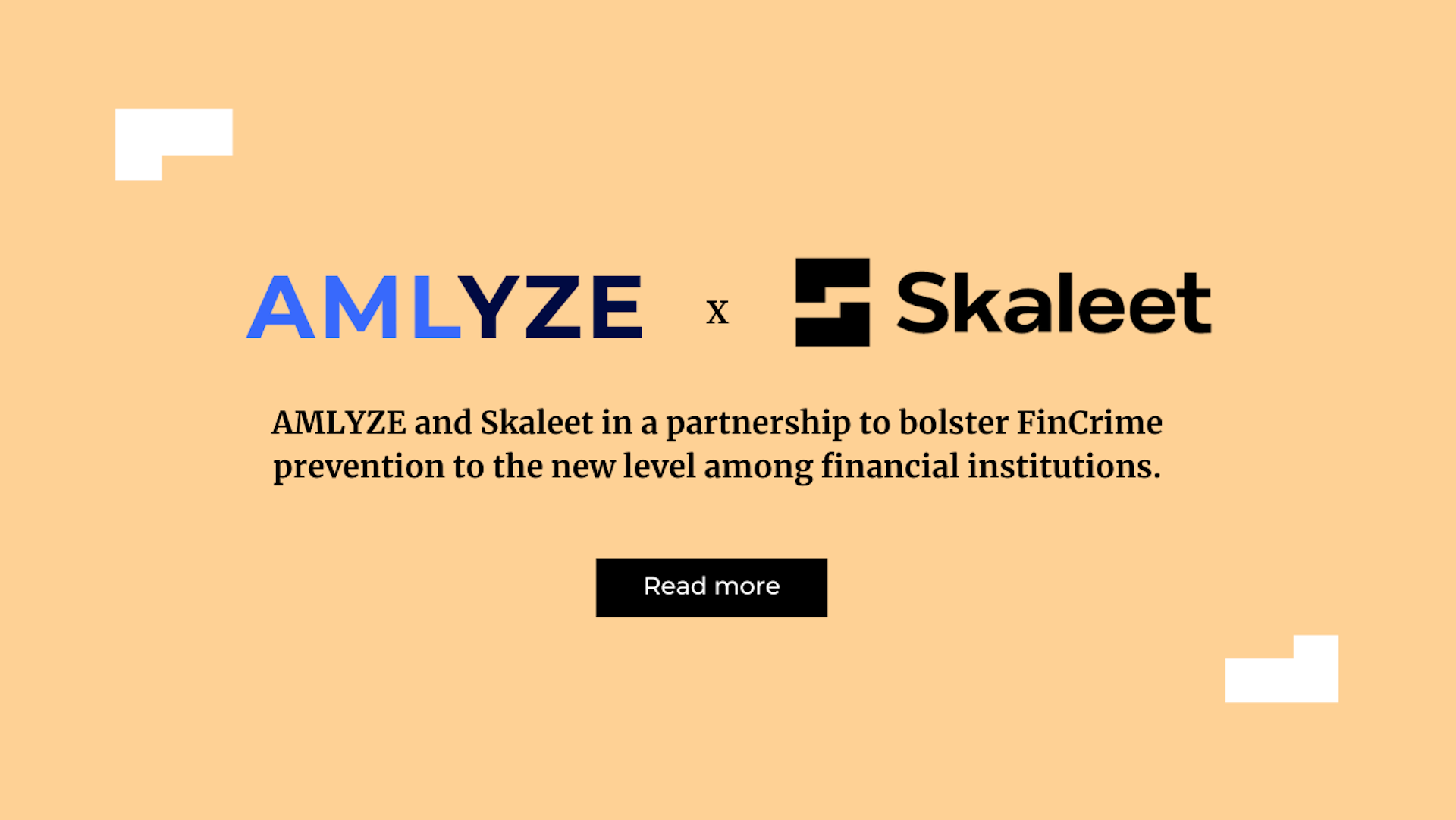 Vilnius, Lithuania / Paris, France, 6 April 2023 - AMLYZE, a fast-developing RegTech startup that helps fintechs, banks, crypto businesses and other regulated entities fight financial crime and avoid painful regulatory fines, and Skaleet, an international fintech offering a next-generation Core Banking Platform (CBP), have established a new partnership.
This will enable the perfect integration of Skaleet's CBP and AMLYZE anti-money laundering (AML) tool, which includes transaction monitoring and screening, risk scoring, and case management.
The partnership also includes cooperation between the two leading vendors to share best practices on how financial institutions can launch new, innovative, and secure financial services that exceed customer expectations.
Financial institutions, especially fast-growing fintechs and neobanks, have discovered the benefits of third-party core banking platforms in recent years, but they also face the challenge of ensuring compliance with anti-money laundering regulations. The number of these has grown to such an extent that there is a clear need to invest in automated and flexible RegTech solutions.
AMLYZE has developed an Anti-Financial crime suite of solutions that satisfies the need to comply with broad regulatory frameworks and strengthen the defensive system of institutions to minimize external risks. This is made possible by bringing together a team of former regulators, supervisors, and heads of compliance with a technical team that is highly experienced in building banking and Fintech solutions.
Skaleet has developed a unique, cloud-native, SaaS-based technology platform that works seamlessly with AMLYZE, enabling it to offer customers an anti-money laundering capability that is at the same time fundamentally compliant with financial regulations while also highly productive in the detection of suspicious transactions.
Skaleet works with clients to quickly launch innovative financial services anywhere in the world, adapted to the local, technological, cultural, and economic environment. Its evolutive technology allows institutions to constantly adapt to the needs of their clients and remain pertinent in a competitive landscape.
" For us, working with a well-established core banking platform like Skaleet is quite intuitive, as a lot of our work has to do with transaction processing. To use an analogy, if Skaleet were a car, we would be the seatbelt, ABS and airbags. "
Jekaterina Govina - Head of Partnerships & Regulatory Affairs & Co-founder - AMLYZE
" Skaleet Core Banking Platform pledges to offer a highly secure and evolutive technology for financial institutions throughout the world. It was therefore natural for us to partner with AMLYZE, an anti-money laundering leading expert, to allow our clients to be fully compliant with regulations. "
Hervé Manceron - CEO & Co-founder - Skaleet
About AMLYZE:
AMLYZE is a Lithuania-based Software-as-a-Service (SaaS) AML/CFT solution offering various modules for real-time and retrospective transaction monitoring, customer risk scoring, case management and sanctions screening. AMLYZE has brought together some of the best technology, regulatory, product and supervisory experts to support its clients' business growth while ensuring their risk exposure is well mitigated. Through technology solutions, the AMLYZE tool minimizes the manual work and tasks that AMLYZE clients undertake in the area of AML/CFT and compliance, taking them to a whole new level of effectiveness.
For more information, visit the website and LinkedIn.
Press Contact:
Paulius Čiulada, Head of Communications
Tel: +370 685 67836
E-mail: paulius.ciulada@amlyze.com
About Skaleet:
Skaleet is a finTech offering a SaaS Core Banking Platform (CBP). Cloud-native and meeting the highest security standards, it is an alternative to the legacy infrastructures of banks and financial institutions. Thanks to its open and flexible platform, its customers can easily imagine, configure and deploy new products. With a single solution, its architecture addresses several business models reducing time to market and optimizing costs. Skaleet counts more than 40 clients and has managed more than 10 million users worldwide.
Skaleet is based in Boulogne Billancourt, France. To discover more, visit the website, Twitter and LinkedIn.
Press Contact:
Jihane Teretal
06 08 27 68 85
You might also be interested in ...
Innovation. FinTech. Digital Banking. Neobanks. Open Banking. Core Banking. Cloud.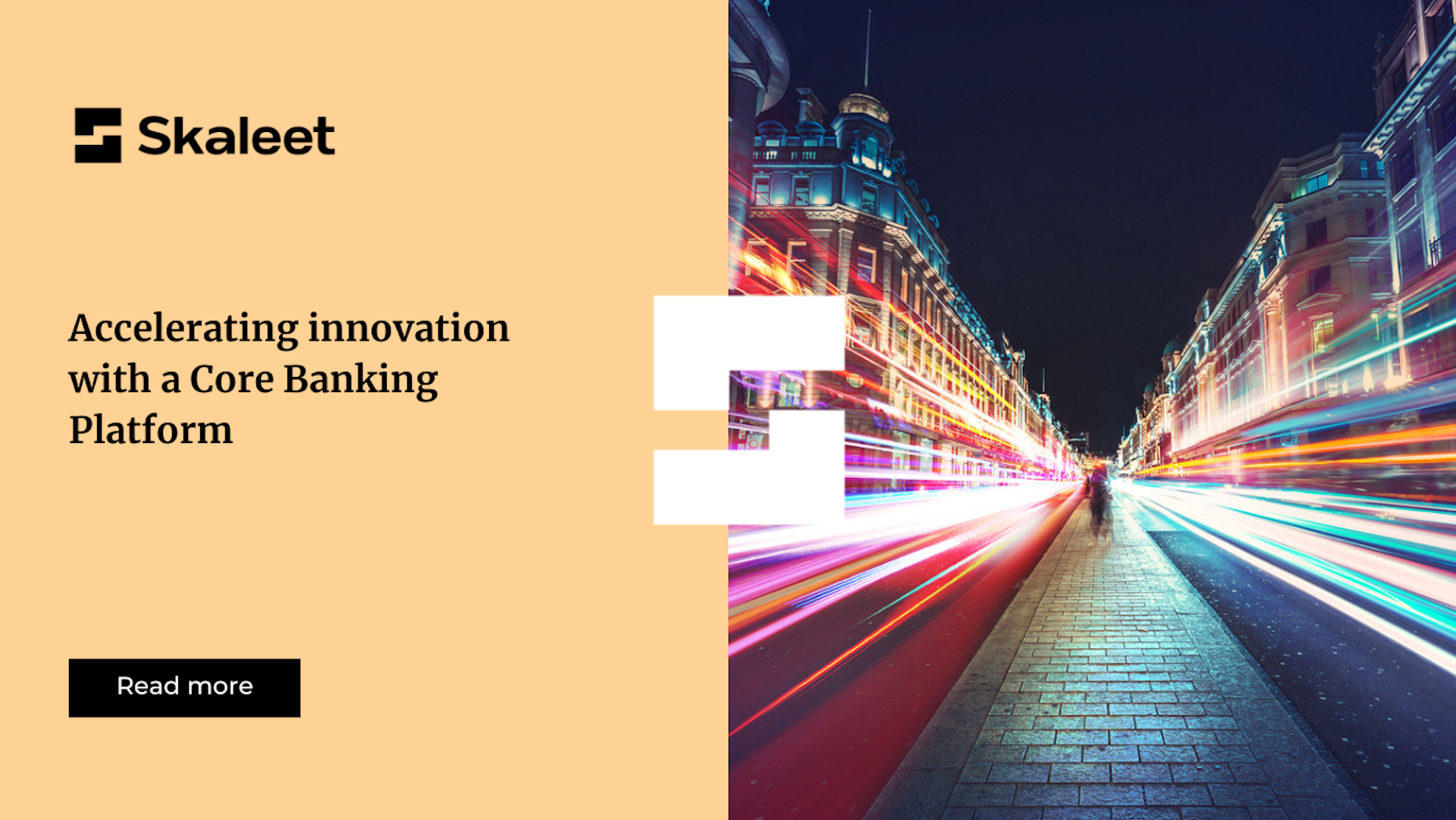 March 21, 2023 • Core Banking by Marketing Skaleet
Accelerating innovation with a Core Banking Platform 💫
New technologies, new products, new distribution channels...
Contact Us.
Would you like to learn more about Skaleet and its solution?