December 13, 2022 • Open Economy by Marketing Skaleet
42Flows.Tech and Skaleet join forces to expand their offering to the European financial industries 🤝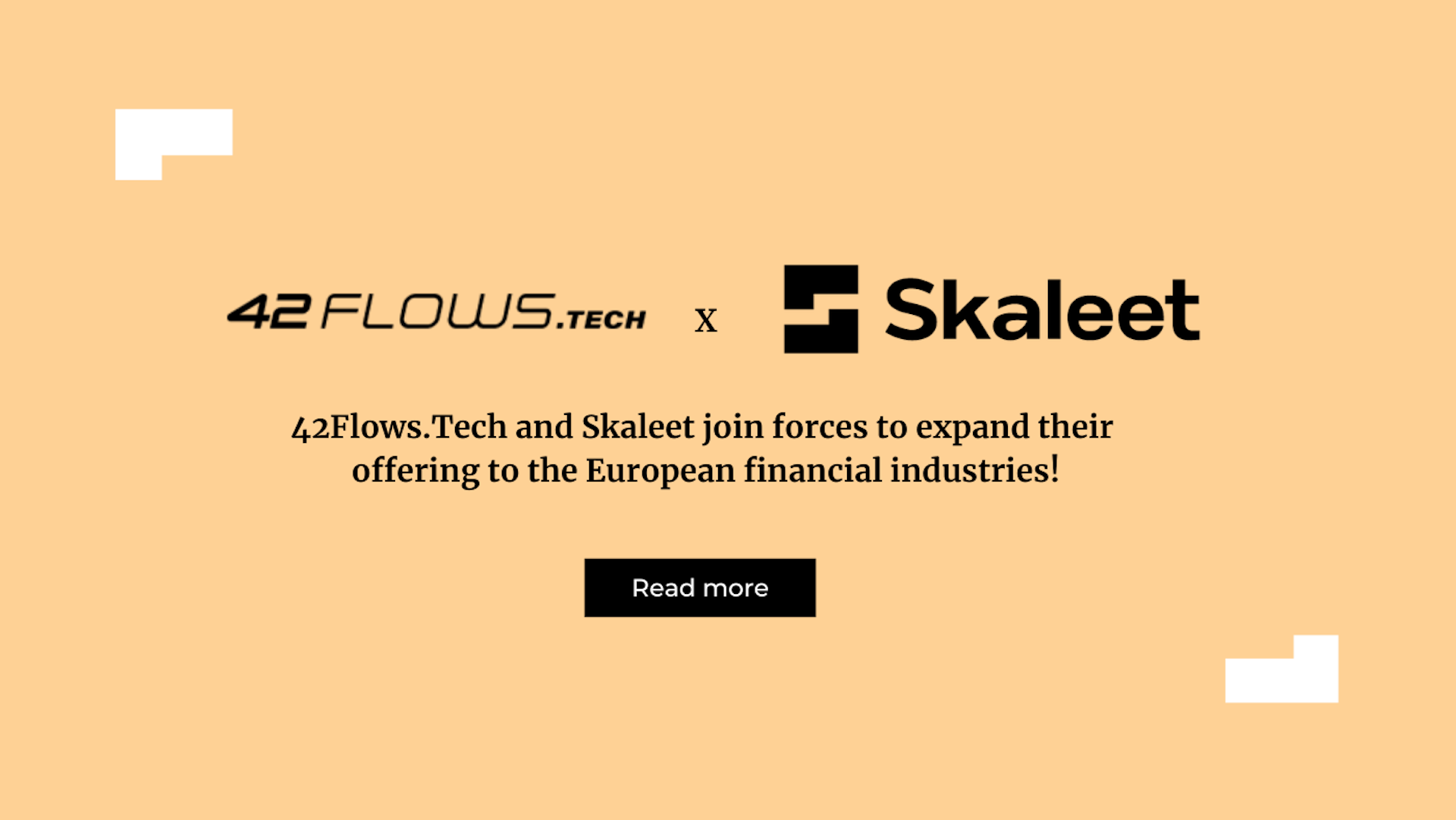 Paris, December 13, 2022 - 42Flows.Tech, an Estonian software development and implementation firm, and Skaleet, a French fintech offering a next generation Core Banking Platform (CBP), have announced a strategic alliance.
Skaleet's clients, financial services providers, require the development of technology layers, APIs, new functionalities, and even the integration of new products and services with an attractive mobile application. 42Flows.Tech has proven to be an excellent partner in assisting these customers.
42Flows.Tech, for its part, finds in Skaleet's Core Banking Platform a technology that perfectly meets its success principles, which are summarized by the formula "Future, Fintech, Fast." This includes:
a development and integration environment that allows teams to gain productivity in an agile mode;

providing these teams with intelligent and efficient tools;

regard for the client's choices and desires to better serve their end customers;

rapid use of APIs to leverage the power and flexibility of the Cloud;

and reliance on good metrics to improve system performance.
" Security, performance, and regulatory compliance are top priorities for our customers, who also want an agile and robust solution. Skaleet's Core Banking platform meets all of these requirements and is one of Europe's leading technology providers. "
Maksym Popov - Co-founder & COO of 42Flows.Tech
The collaboration aims to support both high-growth fintechs and the digital transformation of established financial institutions, which require innovation to remain competitive. A new feature can be implemented in less than two months with Skaleet, compared to more than a year with a traditional banking information system.
" As a Fintech, we need to be able to reach out to our prospects through partners who understand how to identify areas for improvement, who are familiar with the Fintech ecosystem, and who are in touch with the most promising and innovative projects in Europe. 42Flows.Tech, with its market-leading position in Fintech support in Europe, checks all the boxes. "
Brice Groche - Sales Partnership Director at Skaleet
About 42Flows.Tech:
42Flows.Tech is a middleware development firm that works with banks, fintechs, and early-stage startups. Based on 15 years of banking experience, we use low-code and open source tools for rapid integrations. This enables our clients to remain at the forefront of the industry and continue to innovate in order to provide more value to their end customers. This is why we support the "Future, Fintech, Fast" concept. The official 42Flows.Tech website has more information about the company.
About Skaleet:
Skaleet is a French fintech that offers a scalable and adaptable next generation Core Banking Platform (CBP) with a high level of customization. This platform enables financial institutions (retail banks, digital banks, payment and e-money institutions, etc.) to better meet the expectations of their customers by introducing new and evolving digital financial products. Skaleet's CBP is already in use at over 34 financial institutions, and the company manages over 8 million bank accounts worldwide. Among its most important clients are eZyness (a subsidiary of La Banque Postale) and Trust Merchant Bank. Since its inception, the fintech has raised €28.5 million from Société Générale and Long Arc Capital, confirming its desire to expand globally. For more information, visit Skaleet, Twitter and LinkedIn.
Contact Us.
Would you like to learn more about Skaleet and its solution?